Willis Library
PAGE CONTENTS
1 min read.
Willis Library is located on the Library Mall in the center of the Denton Campus, contains a wide range of study spaces, 24 hour computing, and houses collections that support the Arts and Sciences. Our staff is here to help you succeed. Find a liaison (your subject librarian), department or staff person, or Ask Us a question and we'll get back with you ASAP.
The fourth floor of Willis Library will be closed for renovations Monday, December 16, 2019, through January 24, 2020. The third floor is scheduled for tentative closure beginning January 20 through March 1, 2020. See this page for updates.
Create
We've got the computers, printers, and other technologies you need to get your work done.
24 Commons Laptop Checkout Printing The Factory
Study
Whether you like it loud or quiet, we've got space for you.
Space Overview Study Rooms Reserve a Room
Books, Music, & Help
Need to borrow a book or music score, pay a fine, or get a reserve item? Need research assistance or access to one-of-a-kind archival materials?
Upcoming Events
Saturday, January 18, 2020
Tuesday, January 28, 2020
Ongoing Events and Exhibits
Regular Hours
Service desks begin closing procedures 10 minutes before the building or posted hours. Some services not available during all operational hours. Hours are subject to change without notice. Always call ahead when traveling a long distance." Please note exceptions listed below standard hours and dates where all locations are closed (to the right of standard hours).
| | |
| --- | --- |
| Sundays: | closed |
| Mondays: | 7:00 am - 7:00 pm |
| Tuesdays: | 7:00 am - 7:00 pm |
| Wednesdays: | 7:00 am - 7:00 pm |
| Thursdays: | 7:00 am - 7:00 pm |
| Fridays: | 7:00 am - 7:00 pm |
| Saturdays: | closed |
| | |
| --- | --- |
| Sundays: | open 24 hours |
| Mondays: | open 24 hours |
| Tuesdays: | open 24 hours |
| Wednesdays: | open 24 hours |
| Thursdays: | open 24 hours |
| Fridays: | open 24 hours |
| Saturdays: | open 24 hours |
Reduced Hours
Monday, 8/26: opens 7:00 am - 24 hours
Saturday, 9/28: closed 1:00 am - 10:00 am
Wednesday, 11/27: closes 12:00 pm
Thursday, 11/28: closed
Friday, 11/29: closed
Saturday, 11/30: closed
Sunday, 12/01: opens 7am - 24 hours
Friday, 12/13: closes 7:00 pm
| | |
| --- | --- |
| Sundays: | open 24 hours |
| Mondays: | open 24 hours |
| Tuesdays: | open 24 hours |
| Wednesdays: | open 24 hours |
| Thursdays: | open 24 hours |
| Fridays: | open 24 hours |
| Saturdays: | open 24 hours |
Reduced Hours
Sunday, 1/12: opens 11:00 am - 24 hours
Friday, 3/06: closes 11:00 pm
Saturday, 3/07: closed
Sunday, 3/08: closed
Monday, 3/09: closed
Tuesday, 3/10: 7:00 am - 7:00 pm
Wednesday, 3/11: 7:00 am - 7:00 pm
Thursday, 3/12: 7:00 am - 7:00 pm
Friday, 3/13: 7:00 am - 7:00 pm
Saturday, 3/14: closed
Sunday, 3/15: opens 11:00 am
Friday, 5/08: closes 7:00 pm
All Locations Closed:
Saturday, Mar 7, 2020
Sunday, Mar 8, 2020
Monday, Mar 9, 2020
Saturday, Mar 14, 2020
Driving Directions
Selected Services (Not Comprehensive)
Departments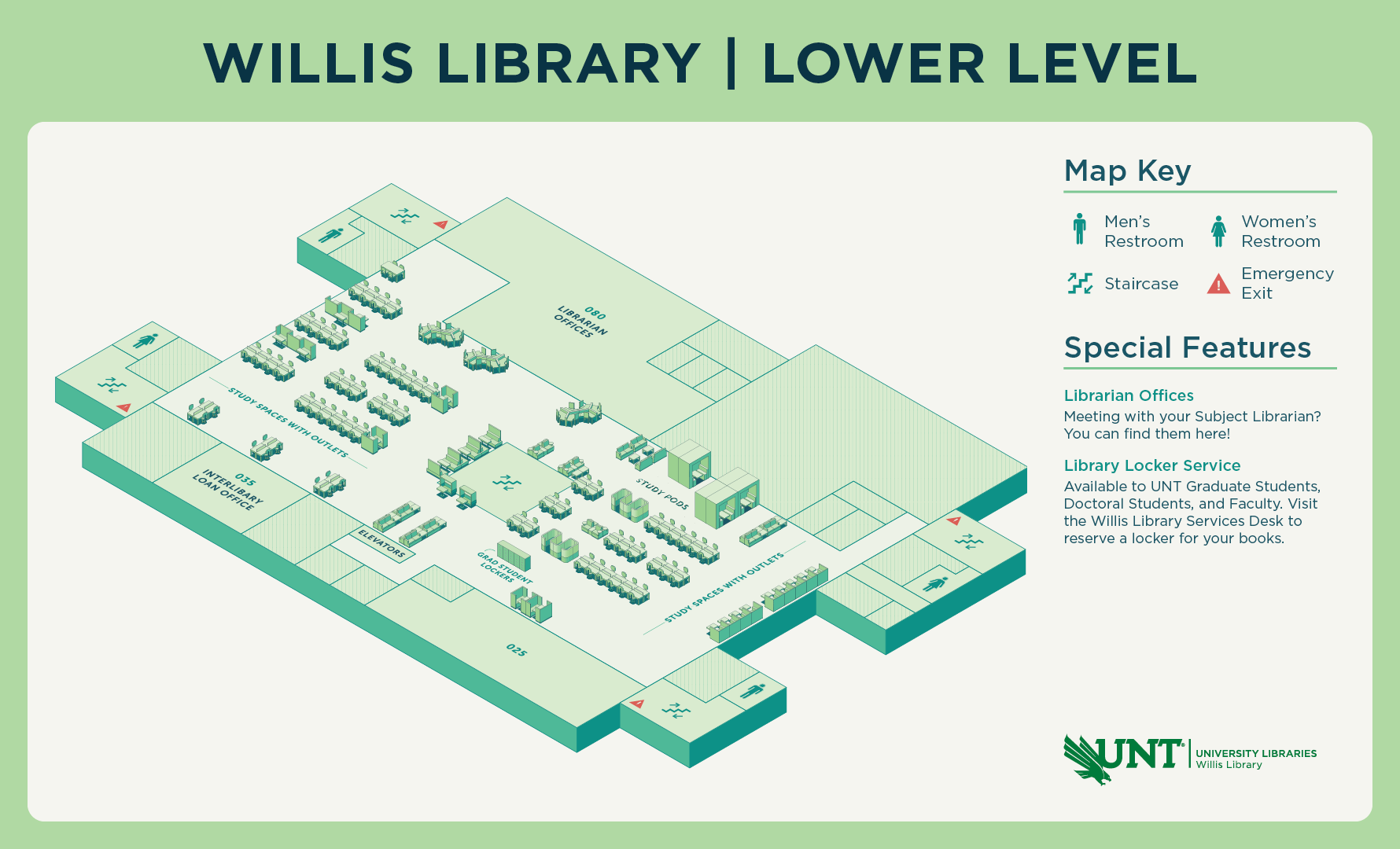 Public Spaces / Study Rooms
Service Desks
Selected Services (Not Comprehensive)
Departments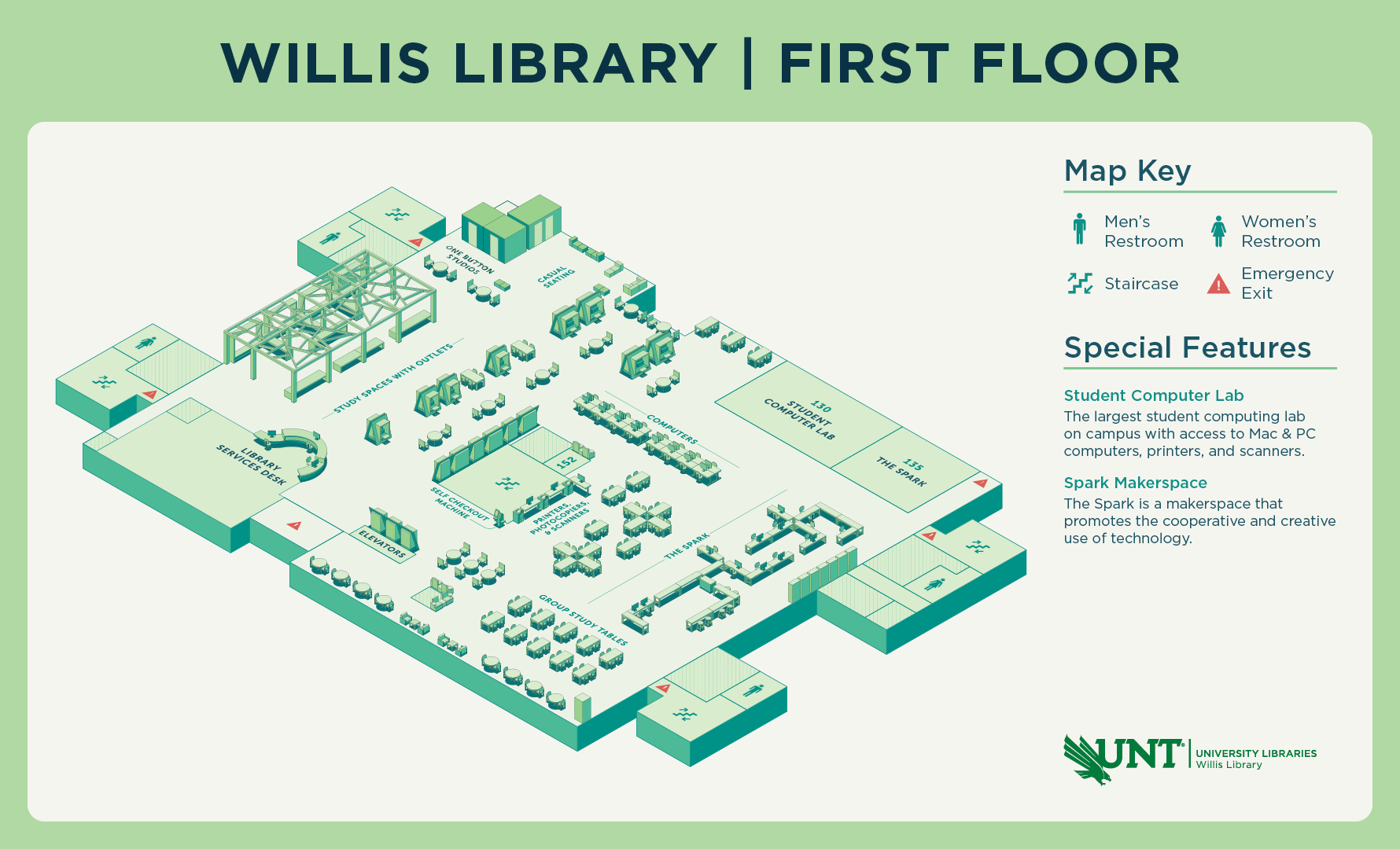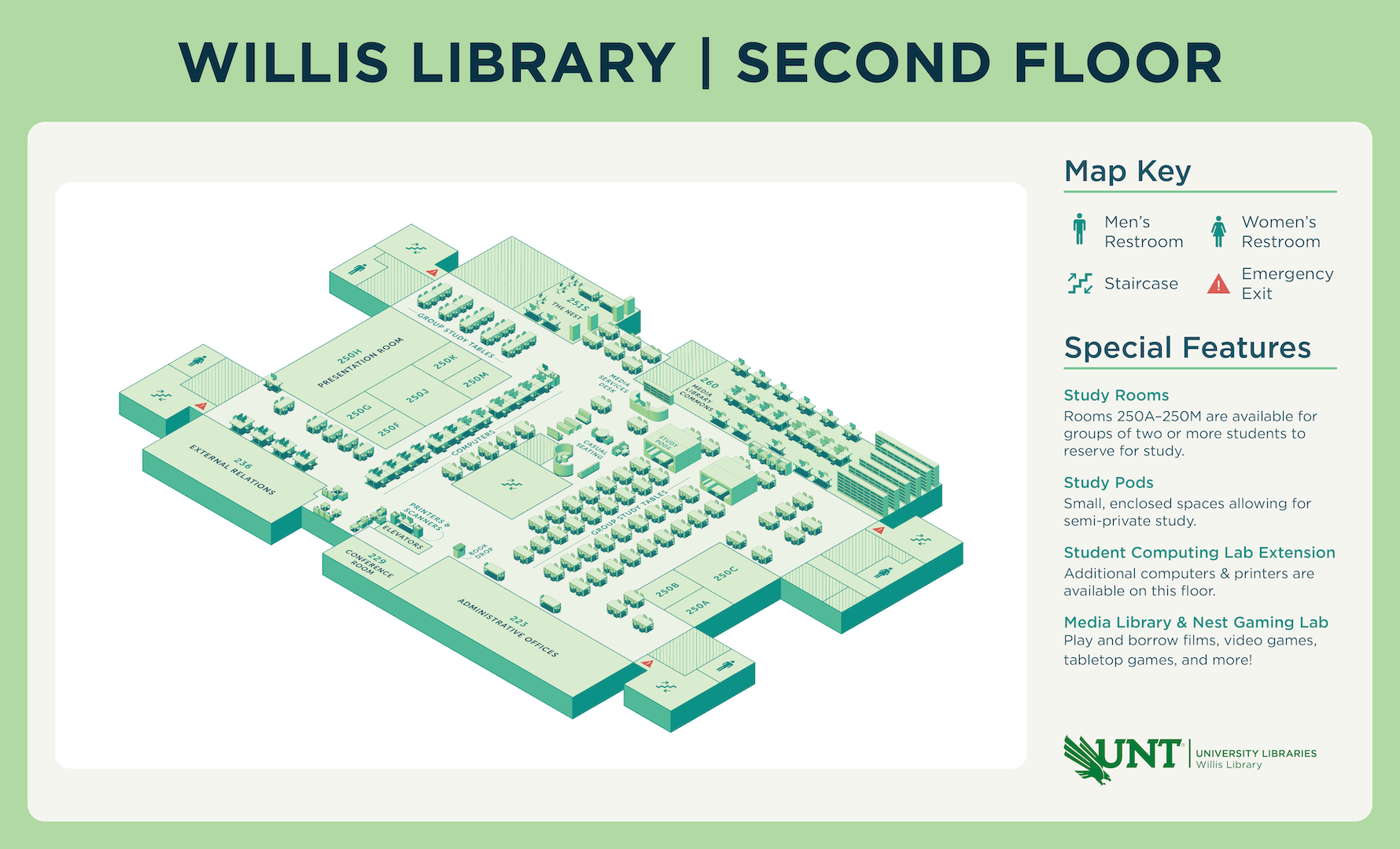 Public Spaces / Study Rooms
Selected Services (Not Comprehensive)
General Book Collection
UNT Oral History Program
Departments
Public Spaces / Study Rooms
Service Desks
Selected Services (Not Comprehensive)
Music keyboards
Gender Neutral Restroom
Departments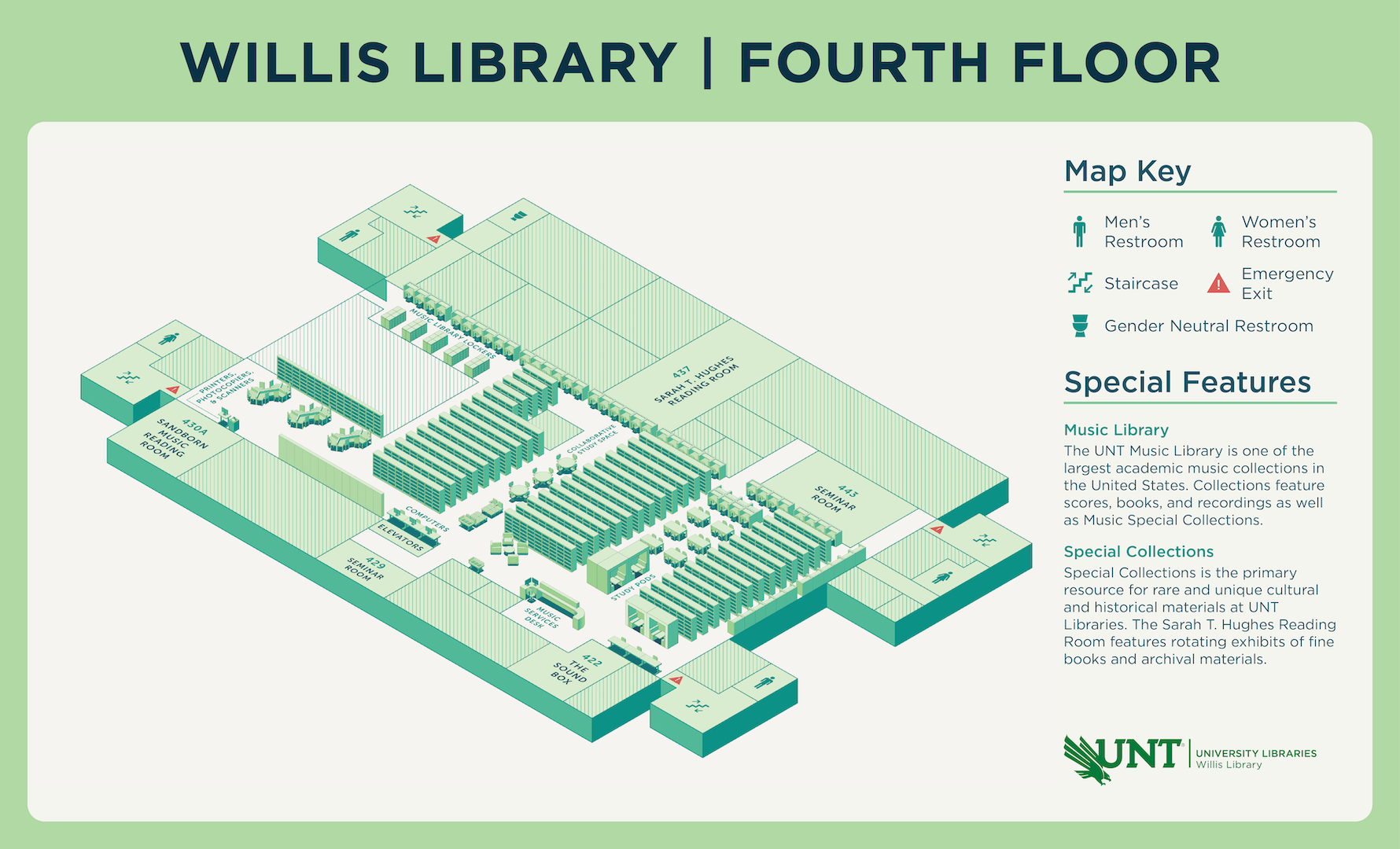 Staff Directory
Find a staff person in Willis Library