Media Library
During the Summer 2020 Semester, most departments are working remotely. Phone calls will forward to voice mail in many cases, but you may wish to use email as a primary means of communication. Due to high demand of services and limited availability, expect delays in processing of requests from some units.
PAGE CONTENTS 1 min

ute

read.
The Media Library contains the UNT Libraries' non-print, audiovisual, tabletop games, and video games collections. The Media Library also has The Nest, which is an e-sports and game design space. The mission of the UNT Media Library is to support the instructional and research needs of UNT faculty, staff, and students by collecting, maintaining, and providing access to media materials that represent all academic disciplines and all genres of film.
Service Desks
Regular Hours
Service desks are closed. Self checkout is available in Willis Library Only. Please note exceptions listed below standard hours and dates where all locations are closed (to the right of standard hours).
| | |
| --- | --- |
| Sundays: | closed |
| Mondays: | closed |
| Tuesdays: | closed |
| Wednesdays: | closed |
| Thursdays: | closed |
| Fridays: | closed |
| Saturdays: | closed |
Reduced Hours
Sunday, 1/12: closed
Monday, 1/20: closed
Wednesday, 3/18: 12:00 pm - 5:00 pm
| | |
| --- | --- |
| Sundays: | closed |
| Mondays: | closed |
| Tuesdays: | closed |
| Wednesdays: | closed |
| Thursdays: | closed |
| Fridays: | closed |
| Saturdays: | closed |
Driving Directions
Public Spaces / Study Rooms
Service Desks
Selected Services (Not Comprehensive)
Departments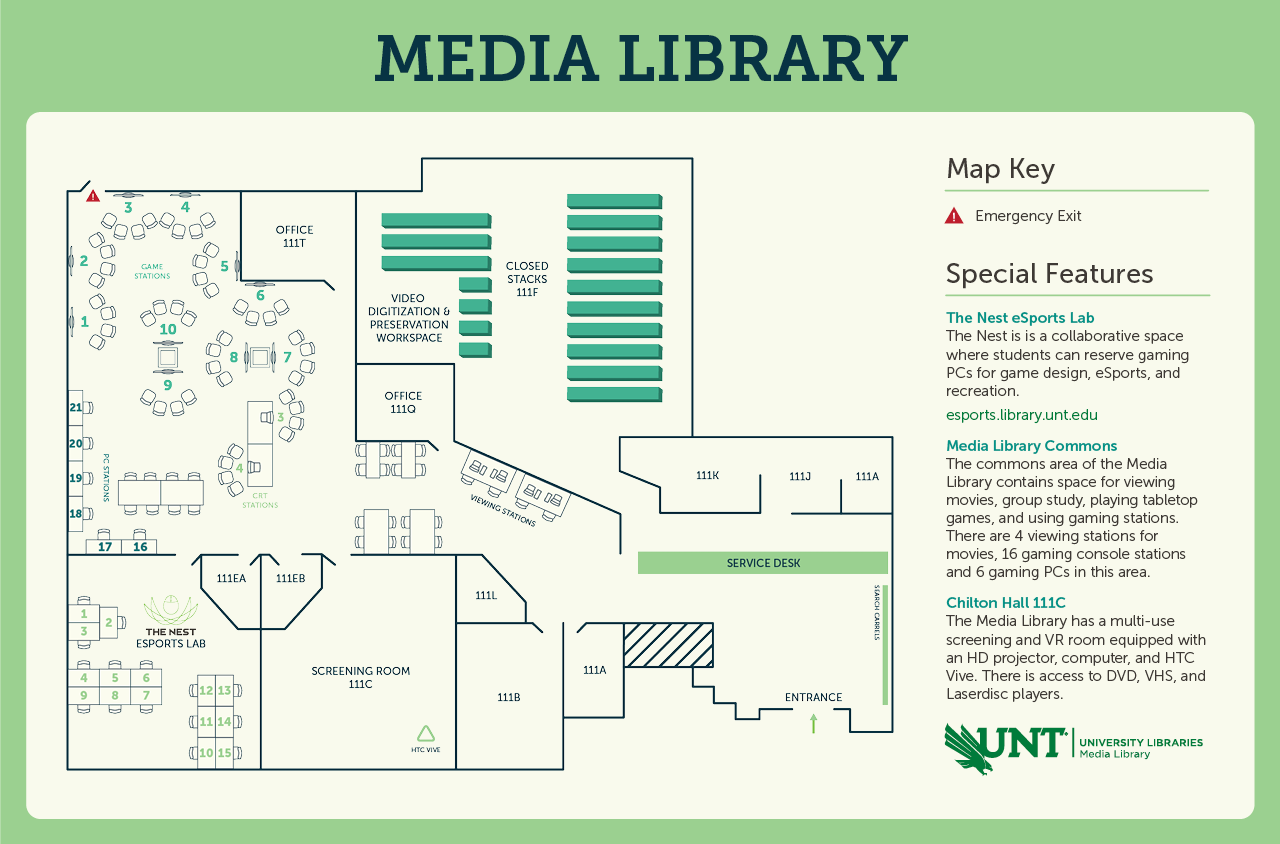 Staff Directory
Find a staff person in Media Library