Special Education: A Beginner's Guide to Serving All Students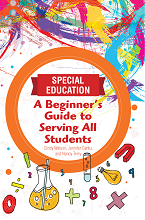 ---
Take an important journey with future STEM educators in learning how to serve students with special needs by making your classroom a place of inclusive learning for all. Explore the foundational legislation and laws that protect and support special needs learners to establish how these safeguards can become real and vibrant in your daily policies and procedures. Learn who participates in the decisions regarding what free and appropriate services are crucial for each student and what your specific role is in that process. Explore what special needs students can achieve through individualized accommodations and modifications. Through an interview with special education expert and diagnostician, Jennifer Cantu, M.Ed., unpack nuances within the field of special education. Determine the special education certification process for subject specific educators.
Intended to be both a starting point and an ongoing reference source for educators new to service of special needs students, this book seeks to instill a sense of direction, pride, and accomplishment as you take some early steps toward effectively serving special education learners.
CINDY WATSON and NANCY TERRY coach future mathematics and science educators to be effective and to serve every student through Teach North Texas at the University of North Texas. JENNIFER CANTU serves as an Educational Diagnostician for students with special needs and as a computer system administrator supporting staff members.
978-1-68040-029-8​ paper $15
6×9. 82 pp. 2 b&w photos. 13 b&w illus. Bib.
Education.
August 2017.
Publication of this work has been made possible in part by a grant from the UNT Libraries Dean's Innovation Fund.
Read Online