Through the Lenses of Ray Bankston and Don Shugart: Horse Photos from the University of North Texas Libraries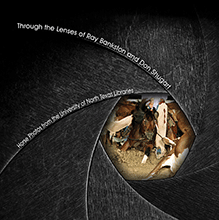 ---
Through the Lenses of Ray Bankston and Don Shugart offers a captivating sample from the UNT Libraries' extensive collection of prints and negatives by two of the most prolific photographers of American Quarter Horses and horse show events in the South and Southwest during the last four decades of the twentieth century.
While Ray Bankston and Don Shugart traveled extensively, many of their clients, including prominent ranches and prestigious performance horse events, were located in Texas, home of the American Quarter Horse Association, the National Cutting Horse Association, and the American Paint Horse Association. In addition to formal portraits of famous horses and their owners and riders, their photo collections also contain never-before-published informal shots of riders and horse-show exhibitors, as well as those of farms, ranches, rodeo arenas, and performance rings of a bygone era.
Ray Bankston was the first photographer to document the National Cutting Horse Futurity, and Don Shugart continued the tradition. Many of their action-packed photos of National Cutting Horse Association Triple Crown events in Fort Worth, Texas are also included in the book. [more]
SALLY HARRISON has been writing about famous horses and their owners and trainers for more than three decades. Her rigorous research, eye for detail and ability to keep out of the way of the story have won her numerous awards and a worldwide audience for her books and for her popular blog, sallyharrison.com.
978-1-68040-002-1 paper $24.95
8.5×8.5. 140 pp. 163 b&w photos.
Photography. United States History.
December 2015
Publication is made possible thanks to the generous support of the Dean's Innovation Fund. All revenue from sales supports the UNT Libraries.
Read Online