Maker-Tech creates campus braille map in The Factory for University Union
This is an archived news item. Links may no longer be active.
Posted: 11/15/2018
An enterprising student spent her summer hard at work in The Factory creating a new addition to UNT that will benefit the visually impaired members of the campus community for years to come.
In May, The Factory was asked by former Student Government Association (SGA) President Barrett Cole to create a map of the UNT Campus that could be displayed in the University Union. The idea was the map would be tailored towards visually impaired students or visitors, and The Factory's 3D printing capabilities could handle the braille required for the task.
The Factory manager Judy Hunter tasked one of The Factory's Maker-techs, UNT junior Jordan Barrett, with the project, which called for 54 3D campus buildings on a displayable map with braille labels and a braille key. Barrett came to UNT in 2016 after serving six years in the U.S. Navy. Her background with soldering as an electronics technician while stationed in Hawaii helped her find a home in The Factory.
But 3D modeling was a whole new process for Barrett. She would also have to train herself in all kinds of different computer programs — from Adobe Illustrator to Blender to Meshmixer.
"It was a lot of trial and error," Barrett said.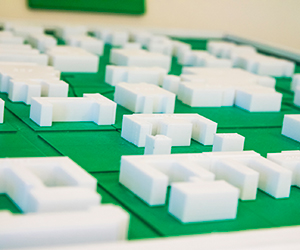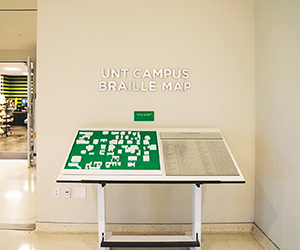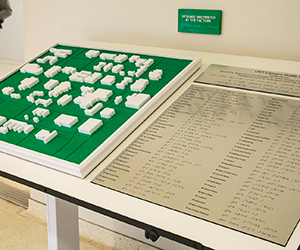 The design process took a month. After downloading a map of campus from the UNT website, Barrett traced the map in Illustrator before then lifting it into 3D in Blender. Each of these programs is available in The Factory.
The most crucial step, braille, was next. Barrett took time to learn the best practices of braille, specifically braille signage. How much braille could fit on the buildings? Barrett originally wanted to label the street names in braille but found there wasn't enough room. Instead, Barrett 3D modeled indents for the streets on the map so streets could be distinguished from the rest of the map's surface. All of these intricacies made Barrett appreciate how difficult life is for the visually impaired.
"I can't imagine how people come up to this map and think, 'Okay, let me somehow navigate my way from here to this building,'" Barrett said. "How do you know where the steps [on campus] are? It can be so dangerous.
"I think the map is a great reference [for the visually impaired] to know where they are on campus," Barrett says. "But it also helps those who aren't visually impaired understand what those who are have to go through. [Then they] can brainstorm more ways to make this campus more inclusive."
While Barrett did the 3D modeling design, the factory maker-tech team also assisted in printing and preparing the project for display. That step of the project ran into some roadblocks because the Factory had not taken on a project like this before.
"We're working on technology that can fail, right?" Barrett said. "So there was so many trials and errors because we've never done this before. We wanted to do it in two colors, so we had a dual extruder printer. But it came out really bad [at first], so we had to take the time to figure out the correct settings."
The map size was three feet by three feet, but The Factory's printer was smaller, so the process took time. Then there was bad luck to deal with. At one point, the map looked like it was made of spider-webs.
"We had issues," Barrett said of the printing process. "It was not sticking to the bed and it was warping. Sometimes the print would fail because the design was just a little flawed."
The map was finally unveiled after months of work on Nov. 7. Barrett's work on the campus map is just another example of how she is drawn to helping people after her military service. She aspires to work in cybersecurity and computer forensics after college.
"Once you've done something much greater than you, it's hard to come back and just do a nine-to-five job," Barrett said. "What am I serving right now? So I want to end up doing something that can help someone."
The braille map is located just outside the Corner store near the front entrance to the Union. You can read more about Barrett and the braille map project here.