Pokemon Go
This is an archived news item. Links may no longer be active.
Posted: 07/15/2016

Pokemon Go has become the largest mobile game in history! You can stop by Willis Library to stock up on supplies at the Pokestop, set lures, and defend your team's gym.
Check out the Media Library's Pokemon Fever blog post for a list of Pokemon games.
Browse the Library catalog for all things Pokemon.
Dive into Japanese media!
Gym Badges Available:
This week many Pokemon trainers have gathered on shaded benches to challenge the reigning team of the Willis Library Pokemon Gym. At the helm of this part of the Library Mall is a well-loved statue, The Sustaining Arch. In 2004 the UNT Student Government Association commissioned UNT Alumnus Jonathan Snow to create the archway of cast-bronze books. It serves as a tribute to students, alumni, faculty, and staff our campus community has lost over the years. The significance of this location inspired the UNT Willis Library Spirit Badge. After battling at the Willis Library Pokemon Gym, stop by the Willis Library Services Desk, Media Library Service Desk, or Eagle Commons Library Service Desk to pick up a Spirit Badge to mark your progress on your Pokemon journey. Badges available while supplies last.
Download the UNT Willis Library Spirit Badge.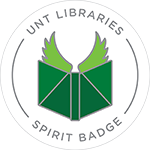 Who Controls the Library Gyms?