The Innovative ETD Award 2014 Winners
This is an archived news item. Links may no longer be active.
Posted: 04/16/2015
In her master's thesis entitled: "Learning From Each Other: Narrative Explorations of Art Museum Self-guided Materials," Jessica Fuentes explored self-guided materials in art museums in the North Texas area. Jessica engaged in collaborative arts-based and arts-informed narrative inquiry with her six-year-old daughter, and then they created collaborative works of art based on their experiences, which acted as both data collection and analysis.
Artist, mother, and educator, Jessica Fuentes holds a BA in Art and Performance from the University of Texas at Dallas and an MA in Art Education from the University of North Texas. Currently, she is the Director of Education for Art This Week, spearheading the development of educational videos and resources for young children. Jessica is also the Center for Creative Connections Gallery Coordinator at the Dallas Museum of Art, where she researches works of art and assists in the development of self-guided gallery activities. Art education is a passion for Jessica and it infuses her life; when not working, she is often with her daughter enjoying an art museum or making art in their home studio.
Sunken Monadnock is a scripted combination of three modular musical surfaces. In his Doctoral dissertation, entitled: "Sunken Monadnock: A composition for flute, clarinet, bassoon, violin, violoncello, electric guitar, piano, percussion, three female vocalists, and computer," Joshua Harris incorporated visual metaphors including Shakir Hassan Al Said's mystical semiotics, Jasper Johns's crosshatch prints, and Wassily Kandinsky's theory of abstraction. The circle and spiral, especially, play influential roles in Sunken Monadnock as reflected by musical applications of repetition, rotation, compression/rarefaction, and endlessness. The nature of the work's formal counterpoint requires an innovative approach to the score, which consists of five sections, each of which reflects a different approach to the aural surface (i.e., to the traversal of time). The two outer sections are traditionally scored, but the three sections in the middle—labeled "Surfaces"—​are played simultaneously by three subsets of the ensemble. The piece is approximately 22 minutes long.
The UNT Libraries is pleased to present the 2014 UNT Libraries' Most Innovative Dissertation award to Joshua Harris.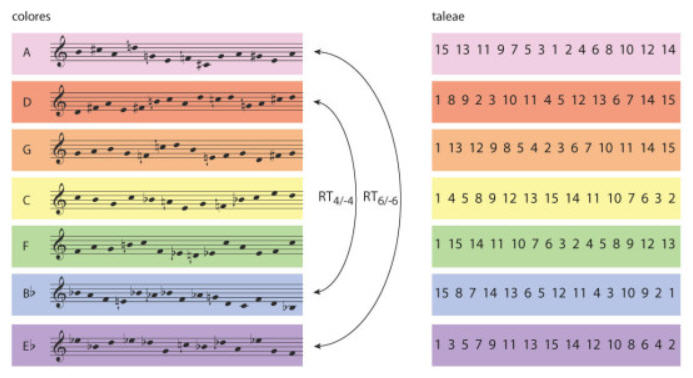 About The Innovative Electronic Thesis and Dissertation Award