UNT Libraries Participate in Texas Library Snapshot Day
This is an archived news item. Links may no longer be active.
Posted: 10/24/2013
Say "Cheese!" The UNT Libraries joined thousands of libraries across the state in participating in [Texas Library Snapshot Day][]. Every day, Texas libraries reach out to millions of Texans – students, adults, job-seekers, researchers, entrepreneurs, and countless others. Snapshot Day provides a way to capture the diversity of activities and learning made possible by libraries. The results will be added to those of other libraries across Texas to demonstrate how libraries provide invaluable services to Texans.
On October 17, UNT Libraries compiled statistics, customer comments and questions, photographs, and other data chronicling a typical library day.
In Just One Day at the UNT Libraries:
8,222 people and students walked through the doors
1,613 books, movies, music and more were borrowed
3,348 people and students used computers
729 laptop checkouts to students
129 students taught in instruction sessions
210 reference questions were answered
365 people participated in programs
249,135 hits to the UNT Libraries' website on 6,745 pages
8,680 people used the Libraries' databases and e-resources
29,481 uses of unique digital library content

Portal to Texas History: 17,926 Uses
UNT Digital Library: 9,409 Uses
Gateway to Oklahoma: 2,146 Uses

33 deliveries to faculty offices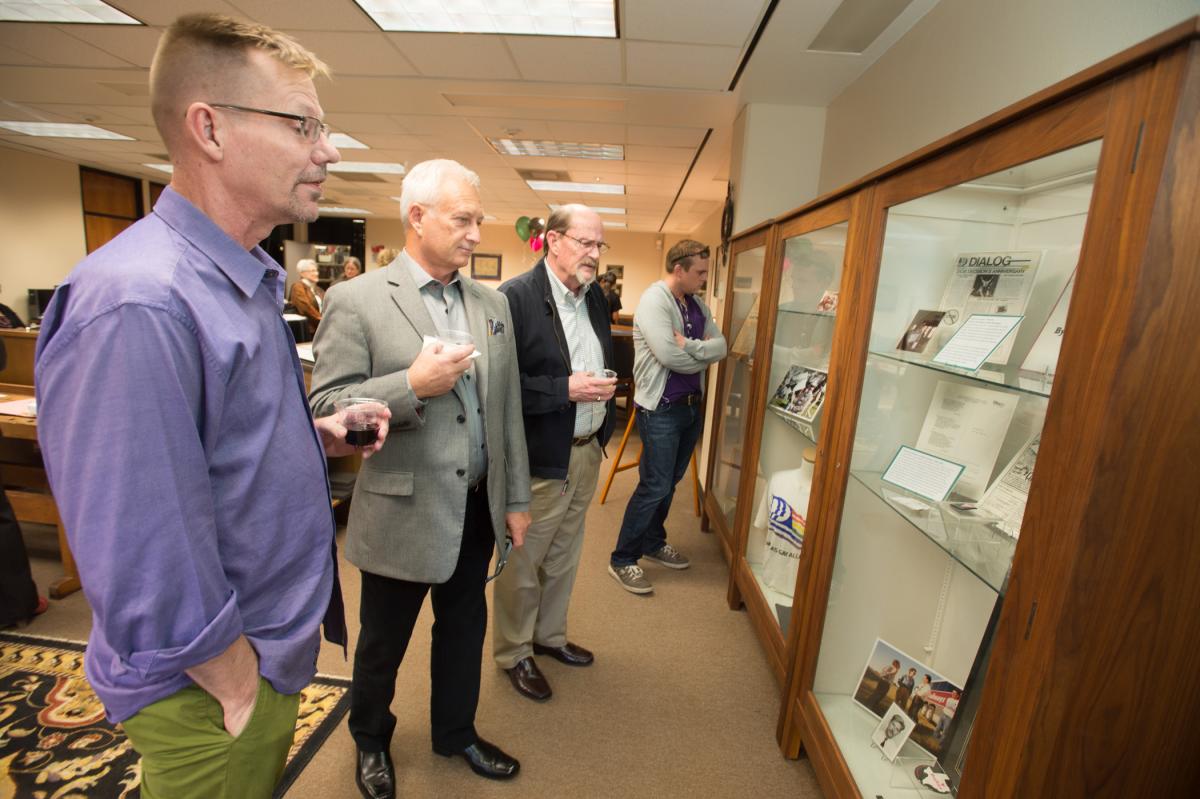 The Libraries are a magnet for community events, training, and special programs, and Oct. 17 included these programs which drew in 365 students, faculty, and community members: a training session on Web of Knowledge; a monthly meeting of the Materials Advantage Society; a library instruction session for 100 students taking English 1320; an Intensive English Language Institute orientation sponsored by UNT International; the opening reception for the exhibit Resource Center LGBT Collections: 50 Years of LGBT Collections in Dallas; an American Studies Colloquium with poet Gabriella Gutiérrez y Muhs sponsored by the English Department; and Outrageous Oral, LGBT story-telling in partnership with The Dallas Way. Above, Bruce Monroe, Buddy Mullino, and Steve Hickerson attend the opening reception for the exhibit Resource Center LGBT Collections: 50 Years of LGBT Collections in Dallas.
And what kinds of questions are our students, faculty, and community asking? Here are a few examples of the 210 reference questions asked on Library Snapshot Day:
Where can I find journal articles on the properties of carbon steel 1020?
How can I borrow a film from another university's collections?
I am looking for Nelson's Personal Recollections and Observations of General Nelson A. Miles particularly the chapter on Apache wars. Can you locate and copy that section for me?
I am looking for examples of Poe's poem "The Raven" in its original and subsequent printings, can you help me locate that?
What are the best practices for linking in Blackboard and for giving students access to articles in Blackboard?
How do I use RefWorks?
What database should I use for resources about ballet?
Where can I find materials about the history of prints and art markets during 17th/18th century?
Can you help me locate sources about Mexican culture, religion, language, economics, and consumer behavior for a Merchandising assignment?
How does one submit a book for publication in the Portal to Texas History?
How do I preserve a copy of my paper in UNT Scholarly Works?
Do you have the parts for a band arrangement of Three Dance Episodes from Leonard Bernstein's "On the Town?"
Can I bring in a visiting professor from Canada to see the Sanborn Room?
In 2012, data for Texas Library Snapshot Day was submitted by 1,608 libraries. Last year, other academic libraries reported an average of 2,336 people and students coming in their doors and circulated 355 items on one day. The average academic library was open 17 hours a day in 2012.
For more information about the resources and events UNT Libraries provide, visit www.library.unt.edu or stop by Willis, Eagle Commons, Media or Discovery Park libraries.