Top Ten Digital Objects
This is an archived news item. Links may no longer be active.
Posted: 02/08/2013
Although you may have heard that there are a lot of items in the UNT Digital Library (DL) and The Portal to Texas History (Portal), some items are far more popular than others.
Here are the top ten most popular digital objects in the UNT collections:
10. Biographical Encyclopedia of Texas (Portal) - 9,978 uses since June 2009.
9. Indian Wars and Pioneers of Texas (Portal) - 11,300 uses since June 2009.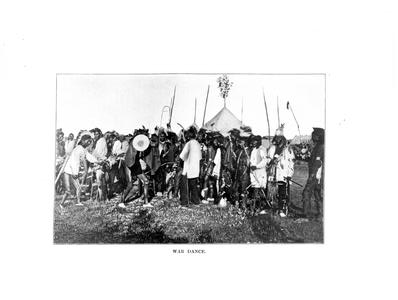 8. Identifying factors that predict student success in a community college online distance learning course. (DL) - 12,049 uses since January 2010.
7. This man is your friend: Russian: he fights for freedom (DL) - 13,296 uses since January 2010.
6. Juvenile Delinquency: Findings and Implications (DL) - 13,574 uses since January 2010.
5. The Application of Hackman and Oldham's Job Characteristic Model to Perceptions Community Music School Faculty Have Towards Their Job (DL) - 16,681 uses since January 2010.
4. Oswald in Morgue - Print (Portal) - 18,066 uses since October 2009.
3. Speaking for America…Bob Hope. (DL) - 24,627 uses since January 2010.
2. [[Clyde Barrow and Bonnie Parker in Morgue, Getaway Car and Funeral]][] (Portal) - 24,902 uses since May 2010.
And the most popular item is…
1. [["Barrow Gang" Wanted Poster, 1933 - Van Buren, Arkansas]][] (Portal) - 43,072 uses since February 2010.
!["Wanted" poster for Bonnie and Clyde][]
For those who prefer the road less traveled, here is a sampling of less popular (but still interesting!) items that you might enjoy:
* [[Two boys sitting on alligator]][] (Portal)
* [[Letters and Drawings from Niagara Falls Students to the BRAC - July 2005]][] (DL)
* [[Map of Europe as queen]][] (Portal)
* [Stamp out black markets –with your ration stamps: pay no more than legal prices.][] (DL)
![World War II-era rationing poster ][]
* [Catheads, Coalburners, and Cho-Cho Sticks: Folk Speech in Texas Prisons][], in The Bounty of Texas published by UNT Press (Portal)
* [Fifty Common Birds of Farm and Orchard][] (DL)
* [[Portrait of Carmen Calvo]][] (Portal)
* [[Cast During the Filming of "Shooting Straight with Tim Holt"]][] (DL)
* [Ant-Trap.][] (Portal)
![patent drawing of an insect trap][]
* [The grocery ruined him.][] (DL)
If you'd like more information about usage statistics, check out [Did You Know…that you can see usage statistics for items, collections, and contributing partners/departments?][] and Bob Is Popular.
![map of "world at one view"][]
[World at one view.][]
–submitted by Hannah Tarver, Head, Digital Projects Unit
[[Clyde Barrow and Bonnie Parker in Morgue, Getaway Car and Funeral]]: https://texashistory.unt.edu/ark:/67531/metapth79005/ [["Barrow Gang" Wanted Poster, 1933 - Van Buren, Arkansas]]: https://texashistory.unt.edu/ark:/67531/metapth78881/ ["Wanted" poster for Bonnie and Clyde]: /assets/images/news/content/wanted-poster.jpg [[Two boys sitting on alligator]]: https://texashistory.unt.edu/ark:/67531/metapth36974/m1/1 [[Letters and Drawings from Niagara Falls Students to the BRAC - July 2005]]: https://digital.library.unt.edu/ark:/67531/metadc17808/m1/ [[Map of Europe as queen]]: https://texashistory.unt.edu/ark:/67531/metapth190462/m1/1/ [Stamp out black markets –with your ration stamps: pay no more than legal prices.]: https://digital.library.unt.edu/ark:/67531/metadc452/m1/1/ [World War II-era rationing poster ]: /assets/images/news/content/stamp-poster.jpg [Catheads, Coalburners, and Cho-Cho Sticks: Folk Speech in Texas Prisons]: https://texashistory.unt.edu/ark:/67531/metadc38873/m1/207/ [Fifty Common Birds of Farm and Orchard]: https://digital.library.unt.edu/ark:/67531/metadc85732/ [[Portrait of Carmen Calvo]]: https://texashistory.unt.edu/ark:/67531/metapth200977/ [[Cast During the Filming of "Shooting Straight with Tim Holt"]]: https://digital.library.unt.edu/ark:/67531/metadc30597/ [Ant-Trap.]: https://texashistory.unt.edu/ark:/67531/metapth165108/ [patent drawing of an insect trap]: /assets/images/news/content/patent.jpg [The grocery ruined him.]: https://digital.library.unt.edu/ark:/67531/metadc2107/ [Did You Know…that you can see usage statistics for items, collections, and contributing partners/departments?]: https://intranet.library.unt.edu/FridayFrags/2012/february/february-24th/did-you-know [map of "world at one view"]: /assets/images/news/content/world-map.jpg [World at one view.]: https://texashistory.unt.edu/ark:/67531/metapth251716/