The Portal's Hidden Gems: Holiday Recipes
This is an archived news item. Links may no longer be active.
Posted: 02/07/2013
Looking to impress the guests at your holiday potluck or dinner party? Consider one of the historical recipes available on the The Portal to Texas History.
A book from the Denton Public Library's collection, 50 Selected Recipes by 50 Denton Women, is available as part of the digital collection "From Plowshares to Diplomas: Digitizing Early Denton History." It was compiled and edited by "Three Married Men" of The Central Presbyterian Church in Denton, Texas (now St. Andrew Presbyterian on 300 West Oak Street), with the proceeds of the book sale benefiting the church's "Young People's Organization." The book includes, as advertised, 50 recipes for a variety of courses, from Fried Celery to Potato Cake, along with advertisements for local businesses. Included in the book is Mrs. R. L. Marquis' recipe for Divinity Candy. If you have some lemon Jello™ on hand, consider recreating Mrs. J. W. Erwin's Carrot Salad or Mrs. J. H. Boyd's Bavarian Plum Pudding.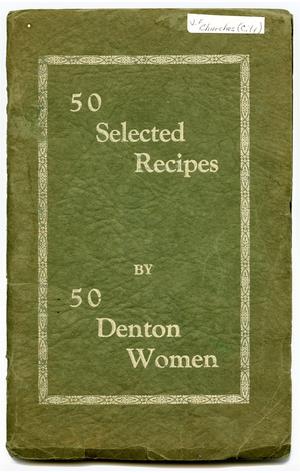 To view more historical books, photographs, letters, newspapers, or objects related to food and cooking, search the Portal using the subject terms "Food and Cooking" or the keyword "recipes."
Happy Cooking!