Please, Can I Keep Him?
This is an archived news item. Links may no longer be active.
Posted: 02/18/2013
When you've walked down a sidewalk or in the street outside your house, have you ever encountered a stray animal–like a donkey?
Imagine bumping into a "red sorrel horse," with a blind right eye, while moseying through San Antonio or Austin. Where could you keep it as you mentally word the ad for the newspaper's "Lost & Found" section? Imagine your backyard after its owner came to get the horse.
It's easy to take for granted the occasional dog or cat wandering the neighborhood, just as it is obvious that these animals pose minor, if any, inconvenience. But reporting a gray mare (sometimes wandering with her colt), a brown donkey, or other large animal as an "estray" was a complicated procedure that required a visit, along with the animal, to the county clerk's office for verification that the report was accurate.
The newspaper "Lost & Found" section that we're familiar with today originated with the "Estrays" section, and the practice of reporting large animals mostly died off around the mid-20th century. We can see on The Portal to Texas History that rural newspapers, for example the Rusk Cherokeean and Tulia Herald, continue to report stray animals still, mostly cattle.
The most important question about picking up a large animal gone astray: Who's going to clean up after it?
If you're interested in learning what types of animals were reported, visit the Portal and enter "estray."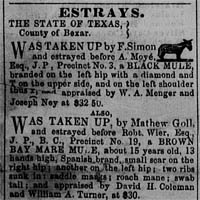 –submitted by Ana Krahmer, Supervisor, Digital Newspaper Unit
Photograph: [Boy on donkey] from University of Texas at Arlington Library https://texashistory.unt.edu/ark:/67531/metapth38442/