Traveling the National Road of Texas
This is an archived news item. Links may no longer be active.
Posted: 10/05/2012
In 1844, the Congress of the Republic of Texas passed a law to open and establish a National Road. Running from the Elm Fork of the Trinity River to Kiomatia Crossing on the Red River in far northeast Texas, this Central National Road was set to become part of a larger "international highway" connecting San Antonio to St. Louis. Travel with us through The Portal to Texas History to learn more from primary and secondary resources.
The enabling law appears in The Laws of Texas, 1822-1897 Volume 2. Here we learn that the road was to be at least 30 feet wide with no tree stumps taller than 12 inches from the ground. Bridges were to be at least 15 feet wide and "built of good substantial materials." Contractors building the road would be paid in public land grants.
Newspapers of the time not only reprinted the legislation (The Northern Standard, March 2, 1844) but provided opinions and commentary such as these remarks from the Telegraph and Texas Register, March 20, 1844: "the act does not specify that any ditches shall be cut to drain the swamps or marches [sic] through which the road may pass . . . the road may be opened through the prairies only, while the sections containing woodlands and those where bridges are required, will be neglected, and thus the road would be useless."
A century later, historians discovered the surveyors' notes for the road. In a 1944 issue of The Southwestern Historical Quarterly, J. W. Williams discussed the route indicated by the notes and provided maps.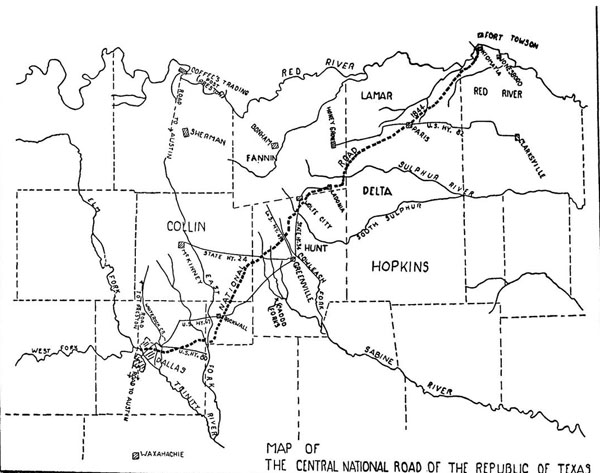 https://texashistory.unt.edu/ark:/67531/metapth146054/m1/242/
In the end, westward movement of the frontier and changes in population centers reduced the importance of the road, but it is still remembered in a historical marker in Paris, Texas.
To learn more, search for "central national road" in the Portal.
–submitted by Nancy Reis, Publications Specialist, Digital Libraries Division