Transportation in Texas
This is an archived news item. Links may no longer be active.
Posted: 10/05/2012
Historically, people have found lots of ways to travel, particularly in a state as large as Texas. One collection in The Portal to Texas History titled, "Are We There Yet? Transportation in Central Texas" explores various methods of transportation through images. The collection comprises photographs from three different institutions, digitized under a grant project.
The photographs from Taylor Public Library include images from Taylor, Texas such as parade floats, horse-drawn wagons, bicycles, trains, and, of course, automobiles. Some of the images show city streets throughout the years, or people traveling to and from Taylor. Others show people posing with various vehicles, such as this image, "Nurses at Taylor Sanitarium":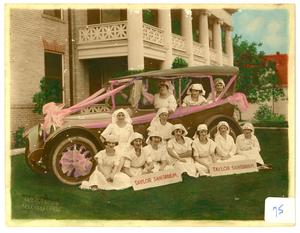 There are similar images from the Williamson Museum depicting transportation throughout Williamson County. Although there are many more images of automobiles, buggies, and parade floats, there are also goat carts, old baby buggies, airplanes, and many people riding animals, like this one: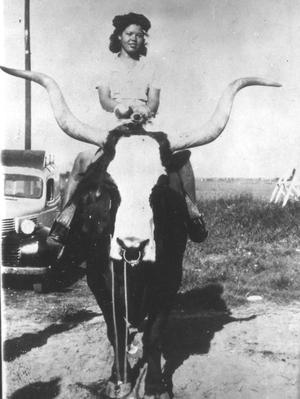 The third organization to contribute to the collection is the Texas Department of Transportation. Those photographs include images of highway structures, bridges, and construction work done through TxDOT contractors. Most of these photographs are close-up images to display particular details in the structures (such as braces for overpasses and bridges) or wider views to show highways and construction projects completed. For example, this image, "[U.S. Highway 79 in Taylor]" shows the detail of a sidewalk corner and retaining wall on a TxDOT street: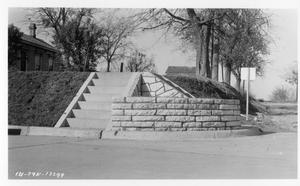 To see some of the interesting ways that Texans have found to get around, check out the rest of the collection or look at some of the other items in the Portal related to transportation.
–submitted by Hannah Tarver, Head, Digital Projects Unit