Sports and Recreation in The Portal to Texas History
This is an archived news item. Links may no longer be active.
Posted: 08/13/2012
The excitement of the 2012 Olympic Summer Games in London, England became sports history when competition ended on August 12th, 2012. The Portal to Texas History includes hundreds of items documenting the history of professional, collegiate, and amateur sports in Texas, including two photos of Olympic medalists.
In this photo Greg Bell, one of the world's best long jumpers in the 1950s, is congratulated after winning the 1957 NCAA championship in Austin, Texas. Bell also won the gold medal in the long jump at the 1956 Olympic Games in Melbourne, Australia. The long jump is one of the oldest Olympic sports, as it was an event at the first modern Olympic games in 1896 and the ancient Olympic games in Greece.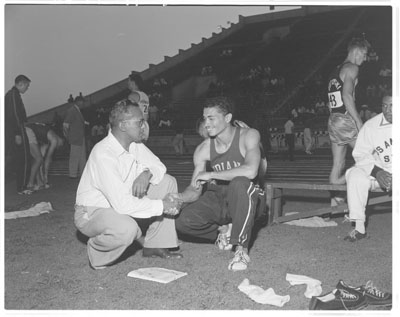 Also in the Portal is a photo of Fred Newhouse, a track athlete and Texas native. Newhouse competed in the 1976 Olympic Games in Montreal, Canada, winning gold and silver medals. He won the gold as a member of the United States men's 4x400 meter relay team. In the final of the men's 400 meter individual race, he was eclipsed by Alberto Juantorena of Cuba and placed second.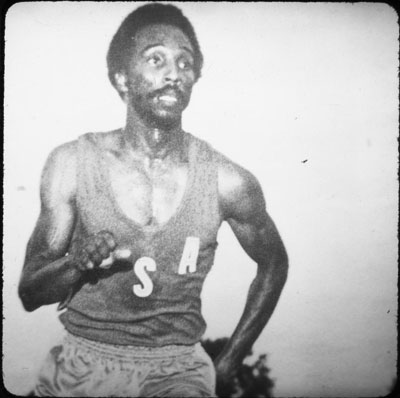 For more photos of sports from karate to horse riding, browse the Portal using the subject terms "Sports and Recreation."
–submitted by Sarah Lynn Fisher, NDNP Coordinator for Oklahoma Historical Newspapers, Digital Newspaper Unit