The Osterhout Papers
This is an archived news item. Links may no longer be active.
Posted: 11/14/2012
J. P. Osterhout was a lawyer and judge in Texas, as well as postmaster of Belton, Texas for several years; he also published a newspaper and ran for Congress (though he lost all three elections).
Most of the items in the collection are letters, sent between Osterhout and his family while he traveled as a circuit judge, and among his children while they were at college. They discuss local news, such as a fire in Belton; news from school, such as Gertie Osterhout's letter about life at Baylor College; and various family news.
Other items of interest include certificates of appointment and similar documents as well as documents related to the Union Baptist Association and Baylor College.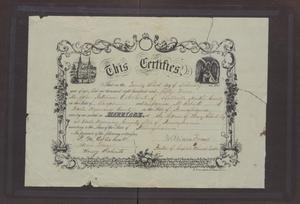 For more information about J. P. Osterhout, also check out his biography on The Handbook of Texas Online.
–submitted by Hannah Tarver, Head, Digital Projects Unit