Leon Breeden Collection
PAGE CONTENTS 1 min

ute

read.
EXTERNAL LINKS
About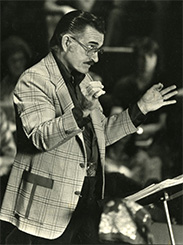 Leon Breeden was the director of Jazz Studies at North Texas from 1959 until 1981. He continued the efforts of his predecessor, Gene Hall, and facilitated the rise of the One O'Clock Lab Band to national and international prominence in spite of intense opposition to jazz in higher education.
At 220 boxes, Breeden's collection is one of the Music Library's largest collections from an individual, and it contains photos, sound recordings, film, video, and correspondence that meticulously chronicle the day-to-day activities, challenges, and successes of the Jazz Studies program. The collection also contains materials from his early career, and from his continued activities as a musician and speaker after he retired from full-time work at North Texas.