Digital Cameras and Lighting Equipment
PAGE CONTENTS 10 min

ute

read.
The Digital Projects Unit employs digital camera equipment for photo documentation, event photography, scanning, slide reproduction, and a variety of imaging assignments. We are sorry, but this equipment is not available to library users. To find cameras that you can check out, please visit​ The Spark in Willis Library.
Large Format Camera
Model: Bette​rLight Super 8K-2 Scanning System
Manufacturer: Better Light, Inc., San Carlos, CA
Features:
Kodak trilinear color CCD technology, 11 f-stop dynamic range, native resolution of 8000 x 10,660 pixels
We currently use our BetterLight scan back with a Cambo Legend 4 x 5 camera and 100mm, 135mm, and 180mm Rodenstock Apo-Sironar-S f/5.6 lenses, and a Fujinon A S 240mm f/9 lens. In the lab we mount the camera on a Bogen/Manfrotto 3263 deluxe geared tripod head on a Cambo UST 7' studio stand with balancing arm and base. Documents to be scanned are typically mounted on a vacuum easel or magnet board and lit with low heat North Light HID lights.
Outside the lab, we carry a Bogen 3251 tripod and 329RC4 low profile 3-way pan-tilt head and incorporate the BetterLight panoramic adapter as needed.
How we use it: general and panoramic high-resolution photography; 360-degree images of physical objects; digitization of large format items such as maps, charts, posters, and newspapers
Single Lens Reflex (SLR) Camera Bodies
Manufacturer: Canon U.S.A., Inc., Lake Success, NY
Features:
16.7 megapixel, full-frame CMOS sensor; DIGIC II image processor; 45 autofocus points; interchangeable focusing screens; JPEG and RAW (12 bit) image formats; evaluative, partial, spot, and centerweighted averaged metering modes; exposure compensation up to +/- 3 stops in 1/3-stop increments
ISO equivalent speed range 100-1600, expandable to 50 and 3200 via menu selection; shutter speeds 1/8000 to 30 seconds, bulb; shooting speed 4 frames per second with maximum burst of 11 to 32 shots (depending on capture mode) during continuous shooting
accepts external E-TTL II autoflash
auto, preset, and custom white balance
dust delete feature
dimensions 6.1 inches wide x 6.2 inches high x 3.1 inches deep; weight 42.9 oz.; LCD monitor size 2.0 inches
CF card type I and II, SD memory card, IEEE1394 and USB connections, Canon EF lens mount
How we use it: slide duplication; photo documentation
Manufacturer: Canon U.S.A., Inc., Lake Success, NY
Features:
15.1 megapixel CMOS sensorwith lens focal length conversion factor of approximately 1.6x, 9-point autofocus; JPEG, RAW (14-bit), sRAW, and RAW+JPEG image formats; evaluative, partial, spot, and center-weighted average metering modes; exposure compensation upt to =+/-3 stops in 1/2- or 1/3-stop increments
ISO equivalent speed range 100-3200, expandable to 6400 or 12800; shutter speeds 1/8000 to 30 seconds, bulb; high-speed shooting maximum of 6.3 shots/second, low-speed shooting maximum of 3 shots/second during continuous shooting
built-in flash, also accepts external E-TTL II autoflash
auto, preset, and custom white balance
dimensions 5.7 inches wide x 4.2 inches high x 2.9 inches deep; weight 25.7 oz.; LCD monitor size 3 inches
CF card type I and II, Canon EF lens mount
Dust deletion feature
Live view shooting
How we use it: photo documentation, event photography, imaging for teaching/training materials, imaging for the Web
Model: [Nikon D800][]
Manufacturer: [Nikon Inc.][], Melville, NY
Features:
36.3 megapixel, full-frame CMOS sensor; 51 autofocus points; JPEG, NEF (RAW), and TIFF image formats; center-weighted, matrix, and spot metering methods; exposure compensation up to +/- 5 stops in 1/3, 1/2, or 1 EV increments
ISO equivalent speed range 100-6400, expandable to 50, 12800, or 25600 via menu selection; shutter speeds 1/8000 to 30 seconds, bulb; shooting speed 4 frames per second at maximum resolution
live view for both photography and movie modes
built-in flash; also accepts external flash
auto, preset, color temperature, and manual white balance
image sensor cleaning feature
dimensions 5.7 inches wide x 4.8 inches high x 3.2 inches deep; weight 31.7 oz; monitor size 3.2 inches diagonal
CF card type 1 (compliant with UDMA); SD, SDHC, and SDXC memory cards; type C mini-pin HDMI, headphone, NTSC, stereo microphone, and USB 3.0 connections, Nikon F lens mount
How we use it: specialized imaging projects
Single Lens Reflex (SLR) Camera Lenses
![Canon EF 24-85mm f/3.5-4.5 USM zoom lens][]
Mo​del: [Canon EF 24-85mm f/3.5-4.5 USM zoom lens][1]
Manufacturer: Canon U.S.A., Inc., Lake Success, NY
Features:
autofocus, 67mm filter size
How we use it: photo documentation, event photography, imaging for teaching/training materials, imaging for the Web
![Canon EF 50mm f/1.8 II lens][]Model: [Canon EF 50mm f/1.8 II lens][2]
Manufacturer: Canon U.S.A., Inc., Lake Success, NY
Features:
autofocus, 52mm filter size, lightweight
How we use it: low-light photography, photo documentation, event photography, imaging for teaching/training materials, imaging for the Web
![Canon EF 50mm f/2.5 compact macro lens][]Model: [Canon EF 50mm f/2.5 compact macro lens][3]
Manufacturer: Canon U.S.A., Inc., Lake Success, NY
Features:
autofocus, maximum magnification of one-half life size (0.5x), closest focusing distance 23 cm. (9 in.), 52mm filter size
How we use it: copystand work, close-up photography
![Canon EF 85mm f/1.8 USM lens][]Model: [Canon EF 85mm f/1.8 USM lens][4]
Manufacturer: Canon U.S.A., Inc., Lake Success, NY
Features:
autofocus, 58mm filter size
How we use it: portraits, low-light photography, photo documentation, event photography, imaging for teaching/training materials, imaging for the Web, slide reproduction
Model: Canon EF 100mm f/2.8 macro lens
Manufacturer: This is a legacy model. The newer [EF 100mm f/2.8 macro USM][] is manufactured by Canon U.S.A., Inc., Lake Success, NY
Features:
autofocus, maximum magnification of life size (1.0x), closest focusing distance 31 cm. (12.2 in.), 52mm filter size
How we use it: copystand work, close-up photography
Model: [Nikon AF-S Micro Nikkor 60mm f/2.8G ED lens][]
Manufacturer: [Nikon Inc.][], Melville, NY
Features:
autofocus, maximum magnification of life size (1.0x), closest focusing distance 18.5 cm. (7.3 in.), 62mm filter size
How we use it: specialized imaging projects
![Sigma 14mm f/2.8 EX lens][]Model: Sigma 14mm f/2.8 EX lens
Manufacturer: [Sigma Corporation of America][], Ronkonkoma, NY
Features:
Hyper Sonic Motor (HSM), autofocus, Canon EF lens mount
How we use it: extreme wide-angle photography, event photography, imaging for teaching/training materials, imaging for the Web
Compact Camera
Model: Panasonic Lumix DMC-LX7
Manufacturer: [Panasonic Corporation of North America][], Newark, NJ ![][5]
Features:
10.1 megapixel, 1/1.7-inch MOS sensor; Leica DC Vario-Summilux lens, focal length 4.7-17.7mm f/1.4/f/2.3 to f/8.0 (35mm film equivalent 24-90mm); 3.8x optical zoom and 7.5x digital zoom; optical image stabilization; 16:9, 4:3, 3:2, and 1:1 aspect ratios; still images and full HD video; JPEG, RAW, MPO, MPEG-4, MPEG-4 AVCHD, and AAC capture; built-in flash; SD, SDHC, and SDXC memory card; time lapse function
dimensions 4.4 inches wide x 2.6 inches high x 1.8 inches deep; weight 0.59 pounds; 3 inch LCD monitor
How we use it: event photography, imaging for teaching/training materials, imaging for the Web
Lighting Equipment
![Canon Speedlite 580EX][]Model: [Canon Speedlite 580EX][6]
Manufacturer: Canon U.S.A., Inc., Lake Success, NY
Features:
maximum guide no. 58 at 105mm setting (guide no. 190 at ISO 100, feet); with compatible digital SLR cameras provides auto conversion of flash coverage and instant communication of white balance information; swivel 180-degrees in either direction; recycling time approx. 0.1 to 6 seconds
How we use it: general flash photography with digital SLRs, experimental printed page imaging
![Canon Speedlite 580EX II][]Model: [Canon Speedlite 580EX II][7]
Manufacturer: Canon U.S.A., Inc., Lake Success, NY
Features:
maximum guide no. 58 at 105mm setting (guide no. 190 at ISO 100, feet); with compatible digital SLR cameras provides auto conversion of flash coverage and instant communication of white balance information; swivel 180-degrees in either direction; recycling time approx. 0.1 to 6 seconds; high degree of dust- and water- resistance
How we use it: general flash photography with digital SLRs, experimental printed page imaging
Model: IFF Super Repro Copy Stand
Manufacturer: IFF, Photographic Division, a Gruppo Manfrotto Company, distributed by [Bogen Imaging Inc.][], Ramsey, NJ
Features:
52" ruled and geared column with geared camera arm, base 27 inches x 36 inches, two lighting assemblies with two reflector heads each, 250 watt incandescent bulbs with color temperature 3400 degrees Kelvin
How we use it: macro photography, reproduction of miniature book covers
Model: [Lowel Tota-light T1-10][]
Manufacturer: [Lowel-Light Manufacturing, Inc.][], Brooklyn, NY
Features:
halogen lamp, adjusting reflecting doors
How we use it: photographic lighting
![North Light HID Copy Light][]Model: [North Light 900 Watt HID Copy Light][]
Manufacturer: [North Light Products, Inc.][], Redwood City, CA
Features:
ceramic discharge lamps, double fan cooling, diffusion screen, accepts additional polarizing filter, meets museum standards for UV levels
How we use it: lighting materials to be scanned with our BetterLight scanning system
![Photek Digital Lighthouse][]Model: [Photek Digital Lighthouse Shooting Tent DLH-18/27][]
Manufacturer: [Photek Inc.][], Ansonia, CT
Features:
dimensions 18 inches x 18 inches x 27.5 inches, full front zipper plus zipper top for camera positioning, removable bottom panel, removable black and white sweeps, horizontal and vertical positioning, folds flat for storage
How we use it: modifying lighting for close-up photography of small objects
Model: [Professor Kobre's Lightscoop][], standard and warming models
Manufacturer: [Lightscoop][], Tulsa, OK
Features:
bounces SLRs' on-camera, pop-up flash from ceiling or wall, standard silver reflector or gold warming reflector, lightweight, easy to use
How we use it: event photography, check-out to other UNT Libraries departments for photo documentation
Model: [Shepherd Polaris Digital Flash and Ambient Light Meter SPD100![Polaris Flash Meter][]][]
Manufacturer: [Aspen Corporation][], Tokyo, Japan
Features:
incident, reflected light, flash, and ambient measurements; exposure value range EV -4 to 26, ambient: 1-19.9, flash: f/2-90.9; LCD display; custom functions; multi-flash feature
How we use it: verifying exposures
[Nikon D800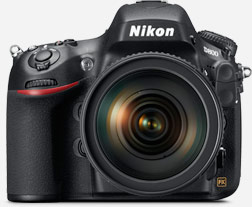 ]: http://www.nikonusa.com/en/Nikon-Products/Product/Digital-SLR-Cameras/D800.html [Nikon Inc.]: http://www.nikonusa.com/en/index.page [Canon EF 24-85mm f/3.5-4.5 USM zoom lens]: /assets/images/departments/division-content/digital-libraries/digital-projects-unit/equipment/canon-ef-24-85-zoom.jpg [1]: http://www.usa.canon.com/consumer/controller?act=ModelInfoAct&fcategoryid=149&modelid=7336 [Canon EF 50mm f/1.8 II lens]: /assets/images/departments/division-content/digital-libraries/digital-projects-unit/equipment/canon_ef-50-1.8.jpg [2]: http://www.usa.canon.com/consumer/controller?act=ModelInfoAct&fcategoryid=152&modelid=7306 [Canon EF 50mm f/2.5 compact macro lens]: /assets/images/departments/division-content/digital-libraries/digital-projects-unit/equipment/canon-ef-50-macro.jpg [3]: http://www.usa.canon.com/consumer/controller?act=ModelInfoAct&fcategoryid=155&modelid=7323 [Canon EF 85mm f/1.8 USM lens]: /assets/images/departments/division-content/digital-libraries/digital-projects-unit/equipment/canon-ef-85.jpg [4]: http://www.usa.canon.com/consumer/controller?act=ModelInfoAct&fcategoryid=152&modelid=7311 [EF 100mm f/2.8 macro USM]: http://www.usa.canon.com/consumer/controller?act=ModelInfoAct&fcategoryid=155&modelid=7400 [Nikon AF-S Micro Nikkor 60mm f/2.8G ED lens]: http://www.nikonusa.com/en/Nikon-Products/Product/Camera-Lenses/AF-S-Micro-Nikkor-60mm-f%252F2.8G-ED.html [Sigma 14mm f/2.8 EX lens]: /assets/images/departments/division-content/digital-libraries/digital-projects-unit/equipment/sigma-14mm3.jpg [Sigma Corporation of America]: http://www.sigmaphoto.com/ [Panasonic Corporation of North America]: http://shop.panasonic.com/home [5]: /assets/images/departments/division-content/digital-libraries/digital-projects-unit/equipment/lumix7-0.jpg [Canon Speedlite 580EX]: /assets/images/departments/division-content/digital-libraries/digital-projects-unit/equipment/canon-speedlite-580-ex-rev.jpg [6]: http://www.usa.canon.com/consumer/controller?act=ModelInfoAct&fcategoryid=141&modelid=10514 [Canon Speedlite 580EX II]: /assets/images/departments/division-content/digital-libraries/digital-projects-unit/equipment/canon-580exii.jpg [7]: http://www.usa.canon.com/consumer/controller?act=ModelInfoAct&fcategoryid=141&modelid=14998 [Bogen Imaging Inc.]: http://www.bogenimaging.us/Jahia/site/bius/lang/en_US/pid/5460 [Lowel Tota-light T1-10]: http://www.lowel.com/tota/tota_c.html#info [Lowel-Light Manufacturing, Inc.]: http://www.lowel.com/index.html [North Light HID Copy Light]: /assets/images/departments/division-content/digital-libraries/digital-projects-unit/equipment/northlight-hid.jpg [North Light 900 Watt HID Copy Light]: http://www.northlightproducts.com/html/copy_lights.html [North Light Products, Inc.]: http://www.northlightproducts.com/index.html [Photek Digital Lighthouse]: /assets/images/departments/division-content/digital-libraries/digital-projects-unit/equipment/photek-tent.jpg [Photek Digital Lighthouse Shooting Tent DLH-18/27]: http://www.photekusa.com/index.php?p=70 [Photek Inc.]: http://www.photekusa.com/ [Professor Kobre's Lightscoop]: http://www.lightscoop.com/products/lightscoop-original/ [Lightscoop]: http://www.lightscoop.com/ [Polaris Flash Meter]: /assets/images/departments/division-content/digital-libraries/digital-projects-unit/equipment/polaris-flash-meter.jpg [Shepherd Polaris Digital Flash and Ambient Light Meter SPD100![Polaris Flash Meter][]]: http://www.aspen.co.jp/html/Eproducts.html [Aspen Corporation]: http://www.aspen.co.jp/Englishindex.html