The UNT Music Library at 75: Selections from Its Special Collections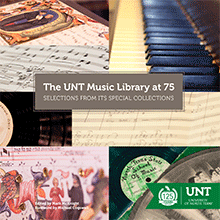 ---
The UNT Music Library boasts an interesting and vastly varied assortment of musical treasures in its special collections. This commemorative volume celebrates its 75th anniversary with a brief history of the Music Library and a selection of items from its unique collections.
MARK MCKNIGHT is Head of the Music Library and Ozier Sound Recording Archive at the University of North Texas Libraries.
978-1-68040-005-2 paper $24.95
8.5×8.5. 116 pp. 47 color, 37 b&w photos.
April 2016
Publication is made possible thanks to the generous support of the Dean's Innovation Fund. All revenue from sales supports the UNT Libraries.
Read Online