The Hobbit: An Unexpected Journey
This is an archived news item. Links may no longer be active.
Posted: 04/12/2019
Last week, UNT Libraries received a special delivery, an anonymous letter and a first American edition of the J.R.R. Tolkien classic, The Hobbit. The letter stated that the sender had taken this copy of The Hobbit from UNT Libraries in 1974, and has cherished it ever since. This version of The Hobbit contains beautiful illustrations by the author, and the original version of the chapter concerning Gollum and the Ring, which was later revised as Tolkien wrote the Lord of the Rings trilogy.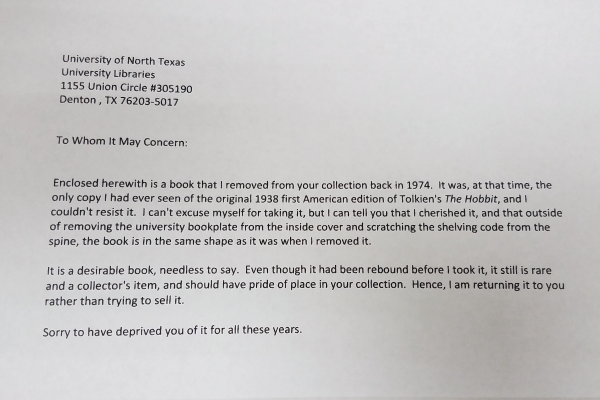 Special Collections posted about this fantastic story on their Facebook page, and the story took flight! WFAA News reached out to do a story about the return of this long lost book, and the story was picked up by their Tyler and Houston affiliates. Additional news media has reached out since then to write about this amazing tale.
In a turn of events, a librarian from Oklahoma Baptist University reached out to us saying that the same person returned an early set of the Lord of the Rings trilogy, taken from their library in 1972!
A special thank you goes out to Laurel Crawford, Morgan Gieringer, and Edward Hoyenski for participating in the interviews for these news outlets and helping to share this feel-good story.
The returned book is currently being cataloged and assessed by preservation, but we plan to have the book available in the Special Collections Reading Room for those curious to see the illustrations in person or to read the original chapter with Gollum.