Assistant Dean for Public Services Suzanne Sears Receives Two TLA Awards
This is an archived news item. Links may no longer be active.
Posted: 04/25/2014
Suzanne Sears, Assistant Dean for Public Services received two distinguished awards at this year's Texas Library Association Conference in San Antonio.
The TLA GODORT/MARCIVE "Knowledge is Power" Award recognizes an individual who is an outstanding Government Documents Librarian and active supporter and advocate for the use of government information in education, research, and/or commerce. Active support of government information access can take the form of presentations, scholarly papers, Web resources, or any other appropriate creative activity. The award recognizes past as well as present government information involvement. MARCIVE, Inc., of San Antonio, very generously sponsors the award with $400 to express appreciation to the recipient.
Suzanne was nominated by Julie Leuzinger for the "Knowledge is Power" Award. Coby Condrey was chair of the committee and presented Suzanne with the TLA GODORT/MARCIVE "Knowledge is Power" Award.
Since 1960, the Texas Library Association has honored and recognized excellence in librarianship and outstanding contributions to Texas Libraries through awards presented annually at the TLA spring conference. The TLA Distinguished Service Award is given in recognition of demonstrated leadership and continuing service in one or more areas of the library profession.
Mary Ann Venner nominated Suzanne for the TLA Distinguished Service Award.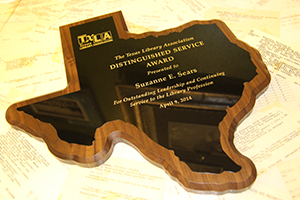 Featured image: Coby Condrey, Collection Development Librarian and Suzanne Sears, Assistant Dean for Public Services
Photographs by Joshua Sylve