"The Fullers were primarily manufacturers of toy novelties, but feature largely in early history of the movable book because of their invention of Paper Doll Books, the most famous of which is certainly The History of Little Fanny issued in 1810. . . . The idea [of paper doll books] was certainly ingenious, and it is perhaps no surprise to find that the Paper Doll Books were expensive even for the period, selling at between five and eight shillings each."
--Peter Haining, Movable Books
Click on Little Fanny to dress her in three different outfits! If you don't have it already, you will need the Shockwave Authorware plug-in.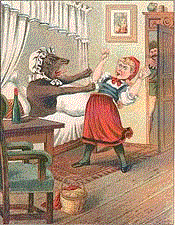 Le Chaperon rouge. Paris: A. Capendu, Editeur, [ca. 1880].
Contains six full-page color plates with moving parts operated by tabs.

Fun at the Circus. London: Raphael Tuck & sons, [1892?].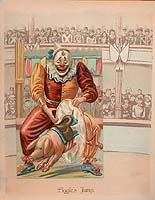 "One of the first men seriously to challenge the pre-eminence of the Dean company in movable books was a German, Raphael Tuck (1820-1900). . . . He saw the opportunity to move into the children's book market with volumes of high pictorial quality and outstanding production. To produce his books he formed editorial and design studios in London where he employed men of undoubted talent, but took all his printing to Germany."
"Tuck's books were colourful and imaginative, catered for young and old alike, and covered topics ranging from ancient myths to contemporary events. In 1875 he became a naturalised Briton, and in due course his outstanding skills were recognized when he was appointed Publisher to Queen Victoria."
--Peter Haining, Movable Books

Ernest Nister was one of the most well-known and innovative makers of movable books in the late nineteenth century. He began his company in Nuremberg, which was then a center for toy manufacturing. After producing several movables for the German market, Nister opened a London branch, where translations were prepared for a British audience. Nister soon expanded to America, where Dutton in New York promoted and distributed his books.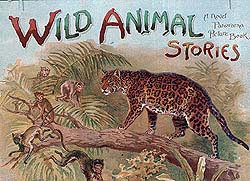 Wild Animal Stories: A Panorama Picture Book. London: E. Nister; New York: Dutton, [1897].
Wild Animal Stories was a "panorama book of a kind which had been seen before but this one required no work on the reader's part, for the three layers of the picture were linked to the facing page by a tab which automatically pulled them into perspective as the child opened the book. . . . The text was by one of the most popular and prolific writers of boys' books of the time, George Manvill Fenn (1831-1909)." --Peter Haining, Movable Books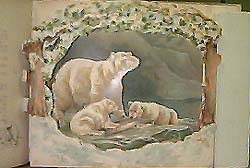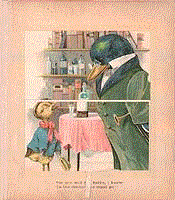 Pictures to Please You with verses by Clifton Bingham and pen and ink sketches by A.G. London: Ernest Nister; New York: E.P. Dutton, [1890?].

The Lion's Den. Little Showman's Series (First Issue). New York: McLoughlin Bros, [ca. 1880].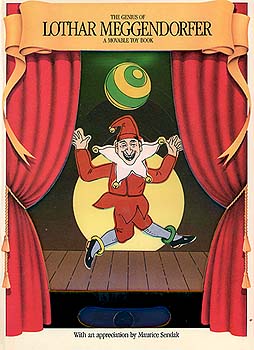 Meggendorfer was another German artist and paper engineer publishing in the late nineteenth century. His movables, made up of a series of connecting levers, were unprecedently complex. As a result, children could easily pull the tabs out too far and destroy the mechanism. In Always Jolly, Meggendorfer warns over anxious children:
With this book, my own dear child,
Are various pictures gay,
Their limbs they move with gestures wild,
as with them you do play.
But still they are of paper made,
And therefore, I advise,
That care and Caustion should be paid,
Lest Woe and Grief arise;
Both you and pictures then would cry
To see wat harm is down,
And sign would follow after sign
Because you've spoilt you fun.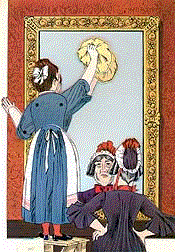 Meggendorfer created an estimated two hundred books, and his often humorous approach delighted both children and adults. Today, his original books are extremely sought after and valuable.
Featured: The Genius of Lothar Meggendorfer. New York: Random House, 1985. Facsimile compilation
The Great Menagerie Home || Nineteenth Century || Twentieth Century
Exhibit Catalogue || UNT Libraries' Home || UNT Home