Willis Library: The Study
Noise Level: Loud / High Traffic
Expect periods of sound, group activity, foot traffic, cell phone usage, etc.
UNT Libraries have brewed up an eclectic and cozy place for students, staff and faculty to recharge, relax, and refuel in Willis Library. The Study is conveniently located just inside the front doors of Willis. It features a coffee bar, tea, snacks, and space for studying or socializing.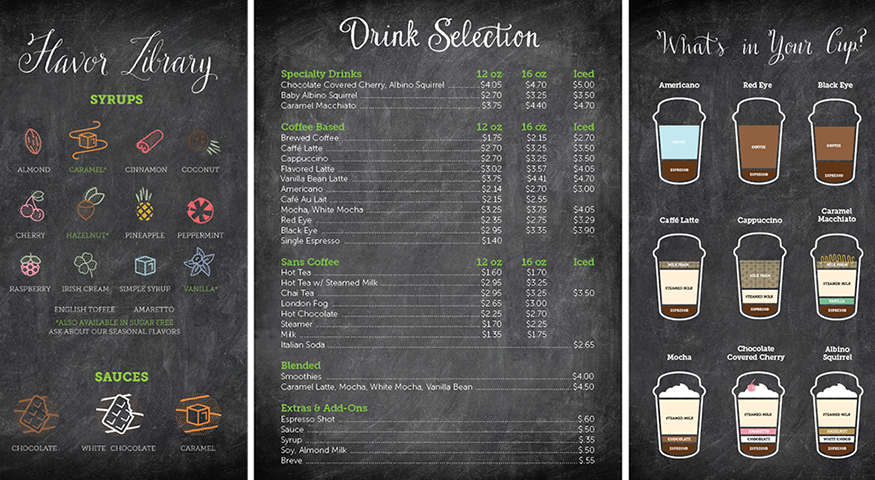 In addition to fresh coffee and an array of snacks, creatively sourced décor adds to The Study's ambiance. Surplus pieces such as traditional light fixtures, vintage typewriters, and even re-purposed card catalogs lend a classic library air to the space. Handmade wall hangings using photographs from UNT Libraries' collections add a whimsical touch.
Sustainability
In an effort to promote sustainability, The Study uses cups made from recycled materials instead of Styrofoam. Customers who bring their own mugs are able to fill it up for the price of a small coffee - $1.75. Buying local is another new effort of The Study, which has partnered with Denton coffee roaster Bookish Coffee to serve their locally roasted and ground beans.
Funding & Payment
All profits from The Study go toward funding UNT Libraries' services and programs. We are not associated with UNT Dining services and do not accept FLEX.
Also on the Floor
Public Spaces / Study Rooms
Service Desks
Selected Services (Not Comprehensive)
Departments