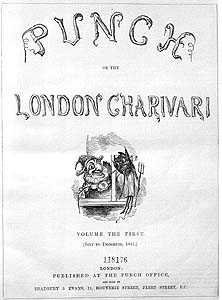 Punch or the London Charivari I (1841).
As the nineteenth century progressed, wood engraving was used increasingly in periodicals. It was a practical means of illustration because, unlike steel- and copper- plate engraving, wood engraving did not have to be printed separately on a single leaf. Instead, engravings could be integrated with text and on both sides of a leaf. This was helpful in pictorial reporting, where printers could incorporate engravings with a particular story on the same page.
The Illustrated London News, Punch, and Harper's were just a few of the periodicals that avidly utilized wood engraving. They normally used it to illustrate news stories and to depict works of art. Engraving was also used for political cartoons, as those in Punch. As a result of wood engraving's proliferation in periodicals, it became artistically degraded, particularly as it is seen in lurid depictions of crimes in Victorian newspapers and in boys' dime novels such as Diamond Dick Jr. Wood engraving was no longer primarily practiced for artistic expression. Especially in periodicals, the wood engraver frequently was seen as a crafts person instead of an artist. Thus, wood engravers for periodicals often did not sign their work.
| | |
| --- | --- |
| Robert Merry's Museum 6 (1843). Engraved by Alexander Anderson. | Diamond Dick Jr., The Boys Best Weekly. 8 Oct. 1898. |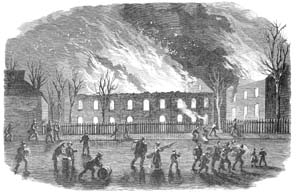 Harper's Pictorial History of the Great Rebellion. Chicago: McDonnel Bros., [1866].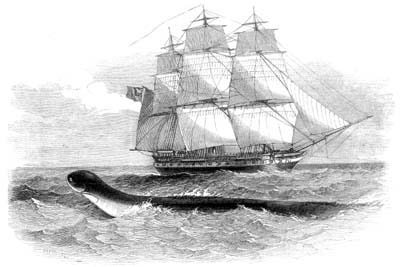 The Illustrated London News 13 (1848). Engraved by Smyth.
History of Wood Engraving Exhibit || Introduction || Early Period (1790-1860)
Late Period (1860-1900) || Cover Design || Periodicals
Rare Book & Texana Collections || UNT Libraries || UNT Home