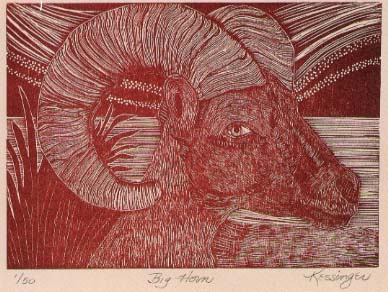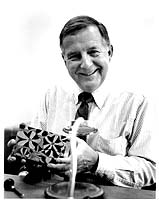 Kent Kessinger is owner of the River Birch Press in Houston, Texas. He holds a Ph.D. in Rhetoric from the University of California at Berkeley and is currently Director of University Placement for Aramco Services Company in Houston. He first became involved in wood engraving in 1985. It's his favorite medium since it allows him to combine printmaking and book illustration. He feels that wood engravings are superior to other print media because "the artist gains the deep, black graphic expression of the woodblock print with exquisite detail."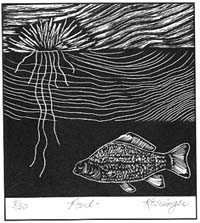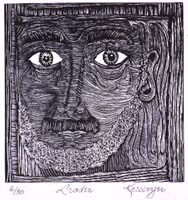 Wood engraving is my preferred medium of expression, because it allows me to create highly graphic visual symbols in multiple editions. Spiritual Abstraction, which does not exclude the figurative but gives it added dimension, is my goal.
I believe that art needs to be beautiful, peaceful and universal. For me a wood engraving is a symbol of visual substitute for a higher reality and presence of which many persons are continuously aware but cannot see in the material world.
A wood engraving allows the artist to gain the deep, black graphic expression of the wood block print with exquisite detail. It is a visual reminder to move beyond perception into the higher realm of absolute knowing.
Exhibit Home || The Works of Kent Kessinger || History of Wood Engraving Exhibit
Engravers and Illustrators || Exhibit Catalogue ||
Rare Book & Texana Collections || UNT Libraries || UNT Home
The images appearing on this page are for educational and informational purposes only and may not be copied in any form without permission from the artist.
If you are interested in purchasing a print, please contact the artist at kkessngr@aramco.com or (800) 343-4272 ext. 4711.