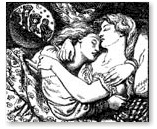 The women writers' works on display are the result of library acquisitions dating back to the University's beginnings in 1890. In 1981, the establishment of the Rare Book and Texana Collections brought together several important collections already belonging to the Libraries. These included a significant number of rare books by women. Since 1981, the Rare Book and Texana Collections have actively continued to acquire women writer's works. The current exhibition is the first to show a majority of the works together.

The exhibition concentrates mainly on books from the following collections:

The Eighteenth Century Collection

One of the Rare Book Collection's strengths is eighteenth century literature and culture, especially Samuel Johnson and his circle. The Collection contains a wealth of works by women, including Fanny Burney, Elizabeth Carter, Lady Mary Wortley Montagu, Hannah More, Hester Lynch Piozzi, and Sarah Scott. The Secret Garden and an unprecedented number of English translations of Johanna Spyri's Heidi. Besides strictly children's literature, Mrs. Weaver also collected first editions by Christina Rossetti (her works for children and adults) and Mary Webb.

The Pat Warde Memorial Collection of Southern Letters

The Pat Warde Memorial Collection of Southern Letters was established in 1992 by a generous donation from the Friends of the UNT Libraries. The collection is made up of first editions by southern women writers and criticism pertaining to them. On display are first editions by Eudora Welty, Katherine Anne Porter, Flannery O'Connor, and Kate Chopin.
---
Rare Book & Texana Collections || Exhibits || UNT Libraries || UNT