Artists' Book Competition, 2001/2002
Contest: November 2001.
Exhibition: January 30 - February 28, 2002, Rare Book Room, Willis Library
In November of 2001, the Friends of the University of North Texas Libraries organization sponsored its Second Biennial Artists' Book Competition for students. The winner received a purchase award, and his work was added to the Rare Book Collection.
The exhibit opened with a reception and awards presentation in the Rare Book Room, Willis Library, on January 30, 2002. In addition to the entries from the contest, other artists' books from the Rare Book & Texana Collections are on display.
We would like to thank the Friends of the UNT Libraries for their sponsorship of this competition and Kelly Donahue-Wallace and Catharine Chauvin of the UNT School of Visual Arts for being part of the panel of judges.
Featured are entries from the award winners and participants.
Purchase Award
2001.

Herman Iselin.
The Better to See You With.

2001.



Fox fur, velvet, paper.

The story of Little Red Riding
Hood, in Braille, bound in fur.
Honorable Mention

Sue Stein.
One Family.

2000
Edition of 5.

Lithography, leather, and dying.

Accordion format.
Honorable Mention

Jean Roelke.
Scheherazade.

1999.

Acetate and ink.
Jean Roelke.


The Broken Song.

2001.

Paper and ink.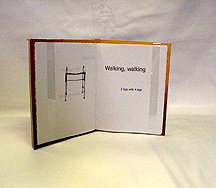 Sue Stein.
Walking.

2000

Edition of 2.



Painted fabric, computer-generated graphics.
2 books in 1.
Jean Roelke.
In Honeyed Air.

2000.

Mixed media.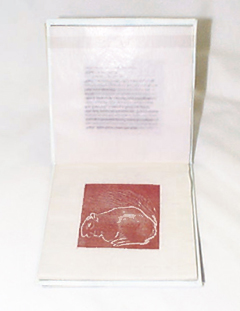 Sue Stein.
Unconditional Love.

2000.

Painted fabric, hand-rubbed linocuts, print on vellum.
---
The images appearing on this page are for educational and informational purposes only and may not be copied in any form without permission from the artists.