January 19 - February 18, 2000, Rare Book Room, Willis Library
In 1999, the University of North Texas Friends of the Libraries sponsored an artists book competition for students. The award winner received a purchase award, and her work was added to the Rare Book Collection.
The exhibit opened with a reception and awards presentation in the Rare Book Room, Willis Library, on January 19, 2000. The event was clearly a success. Over one hundred people attended. Thanks to the UNT School of Visual Arts, especially Rick Allen, for helping to organize the competition and support the exhibition.
Featured are entries from the award winners and participants.
Purchase Award

Teel Savage. Generations, 1999.
Hand-made paper, onion skin, flowers, twine, metal, wax.
Honorable Mention

Teel Savage. The Thin Etched Line, 1999.
Intalgio.
Honorable Mention

Jean Roelke and Marie C. Jones. Haiku Sequence, 1999.
Wood, Japanese paper, ink.
Teel Savage. Match Book.
Matchbooks, paper, velcro.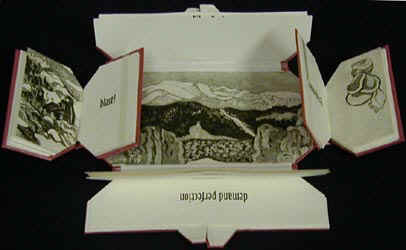 Laurelle Denning Campbell. Mine! 1999.
Zinc etching, cardboard, glitter paper.
A. Herbst. Amusement, 1999.
Latex gloves.

A. Herbst. Residual, 1999.
Paper, graphite.
The images appearing on this page are for educational and informational purposes only and may not be copied in any form without permission from the artist.