Archive
VII. AIRPORT CAPITAL FINANCING REQUIREMENTS MUST BE MET
A. Recommendations
Airport Improvement Program (AIP) funding serves as the linchpin of airport financial planning and therefore, must be funded adequately on a reliable basis. The Commission recommends that AIP contributions to airport capital requirements should be funded at $2 billion annually over the next five years assuming growth adjustments through this period. Further, AIP should-be provided requisite budget treatment to ensure a stable and predictable Federal funding source for airport capital development.
The Commission recommends that Congress look to AIP and Passenger Facility Charges (PFCS) as sources of additional revenues to finance future airport capital needs. This recommendation is made reiterating the Commission's very strong belief that all elements of this report on aviation financing are viewed as a comprehensive package and not as individual parts to be implemented piecemeal.
The Commission also recommends that smaller airports receive funding at a higher level, so that their capital development needs can be met and thereby allowing them to continue serving as a critical element of the air transportation system. The Airport Improvement Program is essential for capital development at smaller airports as they have less capability to draw in a meaningful way from other sources of capital funds.
B. Background
The Commission was encouraged by its enacting legislation to consider airport infrastructure needs for airports of all sizes, and to provide recommendations on funding alternatives for airport capacity development. To assist the Commission in this effort, the Federal Aviation Reauthorization Act of 1996 requested that the General Accounting Office (GAO-Airport Development Needs, April 1997) and an independent entity (Coopers & Lybrand LLP-Independent Financial Assessment, February 1997) provide independent assessments of future airport development capital needs. The Commission reviewed and considered these studies and notes that both entities reviewed previous airport capital requirement studies, which contained different underlying assumptions and hence conclusions as to the total estimated needs over the next five years.
The Commission agrees with GAO and Coopers & Lybrand that there are several key reasons for the differing assessments of airport capital requirements: incompatibility and purpose of collected data, availability of data, and the underlying premise of the data collection process. There are also significant differences in terms of time periods, AIP eligibility, and data sources. In its report, Coopers & Lybrand estimated that the average annual capital requirements total for 1997-2002 will be $7-8 billion per year in constant 1997 dollars. In its report, GAO created four separate models to create an estimated range of $1.4 billion to $10.1 billion per year from 1997-2001. While not resulting in a single agreed upon estimate of needs, the Commission notes that these reports all confirm that airport needs are significant and are expected to increase due to emerging new requirements and forecast growth in airport operations. Current airport revenue sources have not provided the funding to meet the needs identified in the Coopers & Lybrand and GAO reports.
| | | | | | | | |
| --- | --- | --- | --- | --- | --- | --- | --- |
| Funding Source | 1990 | 1991 | 1992 | 1993 | 1994 | 1995 | 1996 |
| Airport Revenue Bonds | 54.600 | $3.200 | $4.800 | $1.600 | $3.000 | $3.200 | $4.000 |
| AIP | $1.425 | $1.800 | $1.900 | $1.800 | $1.690 | $1.450 | $1.450 |
| State/Local Grants | $0.500 | $0.500 | $0.500 | $0.500 | $0.500 | $0.500 | $0.500 |
| PFC's | N/A | N/A | $0.085 | $0.485 | $0.849 | $1.046 | $1.113 |
| Total | $6.525 | $5.500 | $7.285 | $4.485 | $6.039 | $6.196 | $7.063 |
Figure 8.
Sources of Airport Capital Financing*
(in $ billions)
* Does not include General Obligation bonds or airport operating revenue.
The Commission examined the FAA's AIP requirement level of $1.7 billion, an estimate derived from historic appropriation levels and budget constraints. While the FAA states that at this level, it is able to fund most safety, security, rehabilitation, standards and capacity projects, the Commission does not agree. At such a level of annual funding the FAA has not provided single-year AIP grants for all high priority capacity projects and noise mitigation projects that were ready for construction. The FAA acknowledges that at less than a $2 billion level it cannot satisfy all requests for worthy noise mitigation projects and multiyear letters of intent (LOI) that have been requested for capacity projects important to the national system of airports.
The Commission believes that a $2 billion annual AIP should serve as the minimal Federal investment level in airport infrastructure, and that this amount should be made available on a reliable and predictable basis. Funding at the $2 billion level would accomplish the following:
There would be increased preservation of airport infrastructure at smaller airports that are dependent on federal aid. This is especially important at general aviation airports which largely use funds to improve safety and bring existing infrastructure up to standards. There would also be more funding for capacity projects at reliever airports
More safety and security projects could be funded at airports of all types and sizes. Legislation enacted last year requires smaller airports served by commuter type operations to meet higher safety standards consistent with those that airports serving larger aircraft meet. AIP will be the principal source of funds to meet these standards. Security expectations of the public can also be expect to drive further standards in this area. Higher AIP will be a primary source to meet any new objectives for security.
While there have been tremendous achievements in noise mitigation near airports, millions of people living in areas near airports still experience noise levels that are incompatible with residential usage. The noise funding set aside was cut last year based on lower funding assumptions. If a higher funding level were achieved, noise mitigation through AIP could achieve much more environmental benefit and timely results.
More AIP funding will result in more system capacity being developed. With higher AIP, substantial progress can be made at meeting these needs. For large airports, further commitments in the form of Letters of Intent (LOI -- a multi-year commitment or promise by the FAA to fund a large project at a particular airport) could be made. These commitments are typically for projects that will have a significant system-wide impact. There are over $2 billion in pending LOI applications. With a higher AIP funding level, a more significant improvement in overall airport capacity could be achieved.
The Commission notes that this $2 billion AIP level is less than the current authorized level for AIP in existing law. This recommendation is based on the requirement to balance capital spending, of federally collected taxes and fees between air traffic control and airport needs, and the recognition that airport capital funding has a second federally-authorized revenue source in PFCS.
In addition to considering needs assessments, the Commission also examined actual airport capital spending from all known sources of airport capital financing: airport revenue bonds, AIP, State and local grants, and Passenger Facility Charges (PFCS) (but not including other potential revenue sources more difficult to quantify, such as that portion of an airport's operating budget which may finance small capital projects). In examining these revenue sources, the Commission makes the following observations and conclusions:
From 1990-1996, total airport capital spending from "known" sources ranged between $4.5 billion and $7 billion and averaged approximately $6 billion per year.
Of this total, the principal source of capital for airport development at large and medium hub airports was airport revenue bonds. On average, the Commission notes that airport revenue bonds accounted for $3.5 billion a year in "new money", and an additional $1.6 billion a year in "refunding" or debt restructuring designed to enable future borrowing or to reduce airport related costs to users. Further, the Commission additional (sic) $1.6 billion a year in "refunding" or debt restructuring designed to enable future borrowing or to reduce airport related costs to users. Further, the Commission notes that this level of bond financing has persisted, on average, even with the advent and expanded use of PFC revenue.
Between 1992 and 1996, the AIP program has been reduced from $1.9 billion to $1.45 billion, a 23% drop-off. This has tremendously eroded the effectiveness of this program to meet airport infrastructure requirements. Looked at another way, the proportion of the FAA's budget that goes for airports has declined precipitously. The following chart illustrates the relative decline in the airport program compared to the rest of the FAA's activities and programs. Aside from fiscal impact on airport development, this is a very strong policy statement about priorities. It is one that the Commission strongly opposes and believes should be reversed.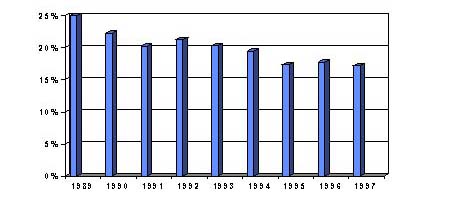 Figure 9.
AIP as Percent of FAA
Appropriations
Since 1992, PFCs have provided an important new financing option for airport capital development, generating over $1.1 billion annually. Airports and airlines have generally agreed with the majority of proposed PFC financed projects. In those cases in which airlines register disagreement, most often landside related development has been proposed. The Commission recognizes that untapped, annual PFC authority of approximately $500 million exists at certain large and medium hub airports, as well as an additional revenue potential of $60 million per year at certain small commercial service airports. However, untapped PFCs represent potential local resources which may not presently align with where the capital needs are in the airport system. Even if fully utilized, current PFCs are insufficient to satisfy unmet infrastructure requirements.
In 1990, Congress, when considering all sources of airport revenue, determined that airport infrastructure requirements could best be met by granting airports PFC authority of up to $3 per passenger, and by increasing AIP spending to $2 billion a year or higher. Yet, since 1993, AIP funding has steadily declined, to the extent that in 1997, a gap of over of $800 million exists between AIP authorized and appropriated levels.
C. Other Recommendations and Findings
Airport revenue bonds are the single most important financing tool available to large and medium airports. These airports boast an unbroken record of creditworthy financial performance, earning the status of premium-grade investments in the exempt municipal bond market. Preservation and potential enhancement of the tax exempt status of this financing tool is essential to meeting the capital demands of large and medium hub airports.
Considering the Commission's recommendations for higher AIP funding, it recognizes that Letters of Intent (LOIs) are an effective innovative financing technique and recommends that the use of LOIs should be continued and concentrated on projects which increase airfield capacity. Further, the FAA should maintain and strictly enforce existing requirements that LOI proposals be subject to rigorous cost benefit analysis, as well as an affirmative determination of system benefits.
In addition to LOIs, the Commission examined other innovative financing techniques and alternatives. The Commission concludes that innovative financing options, such as revolving loan programs, loan Guarantees, and various credit enhancements, offer, at best, marginal and limited opportunities to leverage Federal funds or to increase total airport capital development spending. This is because the essential elements of innovative finance have long been institutionalized at large, medium and small airports capable of borrowing. Airports not capable of borrowing generally rely on local subsidies to meet operating expenses and Federal support to meet capital requirements. With regards to airport privatization, the Commission believes that the results of the current congressionally mandated pilot program should be analyzed before any conclusions are reached on the additional statutory or policy changes.
In order to meet the needs for airport infrastructure investment, the Commission recommends that, in the future, the current $3 ceiling on PFCs will need to be raised. As an alternative, AIP levels would need to be funded at a level substantially above the $2 billion annual level recommended in this report. If Congress decides to increase the PFC, the Commission recommends that there be a process established that places a strong emphasis on negotiation between local airports and tenant airlines when a higher-than-$3 PFC is being proposed. When a higher-than-$3 PFC is proposed, the Commission recommends that when there is written agreement between an airport and its tenant airlines for the airport to levy a PFC higher than $3, there should be no statutory PFC dollar limit, and the FAA's approval process should be ministerial. The Commission recognizes the fact that the airport and airline industry groups have very strongly held and, at times, differing views on the matters of when and how such an increase should take place. Those matters will still require resolution in the context of comprehensive airport funding legislation. Therefore, the Commission's legislative proposal only includes a "findings" statement on the need for a general PFC or AIP increase to meet significant airport capital needs to accommodate growth. Again, this recommendation is made in the context of the overall financing report of the Commission being treated as a total package and not as elements to be separately implemented.
The Commission stresses the need for treatment in the federal budget process of the AIP so that it can be a steady, dependable and reliable source of airport capital development funding.